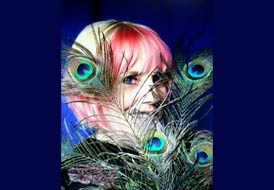 The Atheists are attacking her right now a lot online. Hey at least she's trying. =) J.P.
Hemant Mehta reports at the Friendly Atheist:
For some reason, Christian "Prophetess" Kat Kerr thinks she can stop Hurricane Irma by "taking authority over it" and using her scepter to crush the weather. Because Jesus.

"I make a ruling that storm will leave this area, will leave the coast. I will not tolerate its presence anywhere on the coast of Florida. And I'm commanding it to leave and get back out in the ocean. At the same time, it'll dissipate. So I command the millibars in that hurricane, you RISE right now. You keep rising, and rising, and rising till the storm will be downgraded, downgraded, downgraded!"
Hemant thoughtfully offers some stage direction: "A light saber would have been more colorful." The full clip is totally worth a laugh or three.
Author / Speaker, Kat Kerr will challenge what you have believed about Heaven, the "other" dimension (spirit realm), this life, death and even eternity. Since 1996 she has been 'caught up' by the Spirit of God and taken on amazing journeys into the Third Heaven as well as to Hell. She lives and moves in the supernatural which gives her a detailed understanding of how God, His angels and even darkness operate today. You will feel the manifest presence of God as she shares what it is like to stand before the living God in the Throne Room. The Father has given hard evidence in her Revealing Heaven series that proves Heaven truly exists and that you will live a literal life there.
She was raised in a large family which more closely resembled a tribe and whose primary focus was to love God and help others in need. She has a generational heritage of holiness starting with her father and dating back to the 1800s. Kat also worked in the business world for over 20 years developing skills in Design, Photography, Marketing and the Legal arena before being set apart to prepare for a 'special' assignment. Now President of One Quest International; a for profit corporation God downloaded into her spirit for His purpose of releasing products into the marketplace that bring Heaven to earth and generate Kingdom finances. The Father has told her that the Body of Christ is about to produce entrepreneurs through Heaven's witty ideas, inventions and within a Holy Spirit inspired entertainment industry, things that will shock this world and shift the current economy. He has shown her that America has not yet seen its greatest days as He pours out His Spirit on all flesh!
She has continually pursued an intimate relationship with God and Jesus and they have caught her up and shown her profound mysteries in the Word and about God's plans for this current earth. These revelations will take you 'out of the box', empower you to walk in true authority as a Believer and become too 'hot' for hell to handle. Darkness flees from her presence as she walks in obedience to the commission Christ gave her. Get ready for impartations of the Father to propel you to manifest for Him in this Kingdom Age.
Kat lives in Florida with her husband of over 35 years, the Captain; various family members, a tenacious squirrel and many angels. For more info you can visit www.revealingheaven.com or email us at contactoqi@gmail.com
I host the Church of Mabus radio show and it is going on 8 years. I've been in the paranormal community for 20 years. I provide content from a network of sources and guests and allies. Ranging from Politics to the Paranormal and the Spiritual. You can check out my other articles here at my BIOGRAPHY at BIN and you can check out my free radio show at this link HERE. Thanks for showing your support and stopping by!
We encourage you to Share our Reports, Analyses, Breaking News and Videos. Simply Click your Favorite Social Media Button and Share.