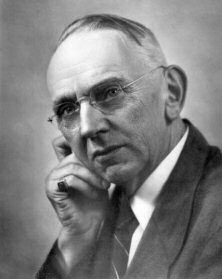 The story of Edgar Cayce properly belongs in the history of hypnosis. Cayce had the unusual ability of inducing out-of-body experiences using a form of self-hypnosis. His out-of-body journeys were identical to near-death experiences with the exception that he was not clinically dead. Indeed, one does not need to be dead to have a near-death experience. There are many ways to induce your brain to free your consciousness and I have a whole list of them on my NDE Triggers web page.
During a hypnotic trance, Cayce was able to speak in an authoritative voice on subjects far beyond the range of his normal knowledge. Except for the Bible, he was not an avid reader of books. While in a deep trance, all he needed was to be given the subject to be discussed, or the inquiring person's name, address, and whereabouts, by a conductor to make suggestions and ask the questions, and a stenographer to take it all down. Almost every day for forty-two years he had out-of-body journeys in order to answer questions covering an immense range of subject matter. He could do this at any time, any place.
Persons from all walks of life came to him for help or advise. Among them were a movie producer, an actress, a top steel magnate, a U.S. Senator, a Vice-President of the United States; parents, the sick, the lame, the disturbed. His strange gift of clairvoyance has never been duplicated in modern times, although a few other psychics have proved a measure of ability beyond any doubt.
The Cayce records are unique. Twenty million words from an unconscious mind is not a commonplace. If they can be believed, new frontiers wait to be explored. Clairvoyance, clairaudience, dreams, hypnotism, point the way to a better understanding of the history and depth of the human mind and soul. A challenging field lies before humans in their search for truth and the meaning of human existence in Earth.
Cayce was born on a farm near Hopkinsville, Kentucky, in 1877. A poor student, he received no more than a grammar school education, and eventually took up photography as a trade. His psychic powers were accidentally discovered in 1901, when he was twenty-four. He caught a cold and suddenly lost his voice. After a year of numerous and unsuccessful medical treatments, he became resigned to a life of rasping whispers.
About this time hypnotism was enjoying a fad throughout the country, and a friend suggested that he try it as a means of helping his condition. Cayce was willing to try anything that might cure his throat. A local hypnotist offered his services, and Edgar readily accepted. He insisted, however, that he put himself to sleep, with the friend making the suggestions after he was "under".
The experiment proved to be more than successful. Cayce went into a deep trance and described the condition in his vocal cords, advising, strangely enough, what to do for it. The advice was followed by the hypnotist – that of suggesting the blood circulation increase to the affected area – and when Cayce awakened he had regained his normal speaking voice. After a number of follow-up sessions, the cure turned out to be a permanent one.
Cayce, his family and his friend were astounded. When word got around of this unusual occurrence, he was besieged with requests by the sick to try his diagnoses and curative methods on them. He was reluctant to attempt anything of the kind. In the first place, he was uneducated and knew nothing of medicine or anatomy in his waking state. After all, he had no idea what went on while he was asleep. In the end, however, he gave his consent, and his misgivings proved unfounded. - http://www.near-death.com/
When he gave a reading on this situation, the instructions were to rest until he was well or dead. He and Gertrude went away to the mountains of Virginia, but in September Edgar Cayce suffered a stroke at the age of 67, in September 1944, and died on January 3, 1945.