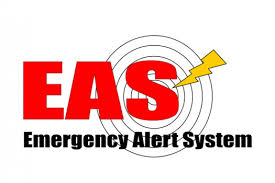 Some Orange County residents were stunned Thursday, Sept. 21, when television programming was suddenly interrupted for about a minute with an ominous message predicting the end of the world. Stacy Laflamme of Lake Forest said she was watching the HGTV channel via Cox Communications about 11:05 a.m.
when suddenly an emergency alert flashed across her screen followed by a voice. "Realize this, extremely violent times will come," a man's voice boomed, according to a video of the alert. Laflamme said she was alarmed. "It almost sounded like Hitler talking," she said. "It sounded like a radio broadcast coming through the television."
There are also FEMA broadcasts going out all over the place as well according to this articles from HalTurnerRadioshow.com
On September 27, 2017 at 2:20pm EDT there will be a nationwide test of the Emergency Alert System (formerly called the Emergency Broadcast System).
It will be broadcast everywhere in the United States across:
Radio stations
Broadcast Television
Cable
Wireline
Satellite service providers
Digital radio
If rescheduled, the alternate date will be October 4th.
COMMENTARY: You don't have to be a rocket scientist to understand WHY this test is being done: North Korea.
We in the U.S. are dotting all the "i's" and crossing all the "T's". We're getting our people in-place militarily, getting our equipment in-place militarily, getting our Diplomatic efforts in their final stages and now, making certain we can alert our people on a national level.
All these things taking place point to war.
Sadly, very many Americans go happily about their days, blissfully unaware of what's coming. You don't want to be them.
You want to make certain you're prepared.
Below are some items you may want to make certain you have so as to actually BE prepared.
I host the Church of Mabus radio show and it is going on 8 years. I've been in the paranormal community for 20 years. I provide content from a network of sources and guests and allies. Ranging from Politics to the Paranormal and the Spiritual. You can check out my other articles here at my BIOGRAPHY at BIN and you can check out my free radio show at this link HERE. Thanks for showing your support and stopping by!
We encourage you to Share our Reports, Analyses, Breaking News and Videos. Simply Click your Favorite Social Media Button and Share.