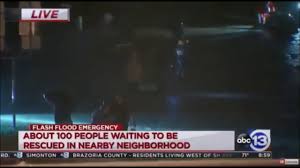 Harvey has spawned FEMA Camps in Walmarts etc. And they seem to be coming forth with all sorts of stories and speculation regarding on the whys and hows of what is happening there. The video embracing this supposedly speaking of true stories that happened at specific brances of charities helping there. Do you live in Houston? What have you seen there regarding FEMA and Walmart Detentions? Let us know in the comments and thanks for stopping by!
From Wikipedia..
FEMA was established in 1979 under executive order by President Jimmy Carter. It was established to coordinate the response to a major disaster that has occurred in the United States and that overwhelms local and state authorities. However, proponents of the conspiracy theory argue that this is merely a cover for the organization's real purpose. This plan is to assume control of the United States following a major disaster or threat, either a genuine one or a manufactured one. Once a disaster or threat of one comes into being, the theory goes, martial law will be declared and FEMA's emergency powers will come into operation. FEMA will then effectively be the government. The constitution will be suspended and FEMA will move US citizens into specially constructed camps, many of which have already been built. The organization has been described in this context as 'the executive arm of the coming police state'. Proponents of the theory often play into racial fears, asserting that FEMA will use 'urban gangs' as auxiliaries to ensure order.
In many versions of the theory, 'dissidents' (typically defined as constitutionalists/patriots etc. rather than left-wingers) will merely be imprisoned. Others have gone so far as to argue that they will be sent to these camps to be murdered. Extreme versions of the theory state that plans are in place to imprison and kill apolitical American citizens in FEMA camps as part of a 'population control' plot. FEMA conspiracies are often worked in larger conspiracy narratives about ushering in a 'New World Order', meaning a totalitarian global government.
As evidence of the conspiracy, theory proponents point to supposed FEMA camps already existing in the United States. These, however, often have known, established purposes such as Amtrak facilities and Armed Forces training centers. In some cases, genuine internment camps have been pointed to but these have always been outside the United States.
I host the Church of Mabus radio show and it is going on 8 years. I've been in the paranormal community for 20 years. I provide content from a network of sources and guests and allies. Ranging from Politics to the Paranormal and the Spiritual. You can check out my other articles here at my BIOGRAPHY at BIN and you can check out my free radio show at this link HERE. Thanks for showing your support and stopping by!
We encourage you to Share our Reports, Analyses, Breaking News and Videos. Simply Click your Favorite Social Media Button and Share.