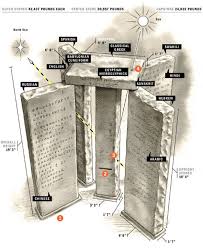 It was this gargantuan granite deposit that attracted a well-dressed man under the pseudonym of RC Christian to Elberton in June 1979. He approached the Elberton Granite Finishing Corporation's President Joe H Fendley Sr about the potential cost of building a monument of substantial size, explaining that he represented a small group of anonymous Americans foreign to Georgia who had been working on a 20-year-long project as a message for future generations. Fendley promptly put him in touch with his banker, Wyatt C Martin, who was soon chosen as the intermediary for the project. Both men were sworn to secrecy.
On 22 March 1980, the Georgia Guidestones – four giant rough-edged stones encircling a centre slab with a capstone balancing on top – weighing 119 tons, were revealed to a crowd of about 100 people. One crowd member, a local pastor, immediately professed his belief that the stones were built for cult and devil worship because of its similar appearance to Stonehenge.
On each side of the capstone, engraved in four ancient languages, were the words: "Let these be guidestones to an Age of Reason." And written in eight languages – English, Russian, Mandarin Chinese, Arabic, Classical Hebrew, Swahili, Hindi and Spanish – were cryptic instructions for rebuilding society post Doomsday:
"Maintain humanity under 500,000,000 in perpetual balance with nature; Guide reproduction wisely – improving fitness and diversity; Unite humanity with a living new language; Rule passion – faith – tradition – and all things with tempered reason; Protect people and nations with fair laws and just courts; Let all nations rule internally resolving external disputes in a world court; Avoid petty laws and useless officials; Balance personal rights with social duties; Prize truth – beauty – love – seeking harmony with the infinite; Be not a cancer on the Earth – Leave room for nature – Leave room for nature."
Leak Project on Georgia Guidestones and the above BBC excerpts
Update on Incident with the Guidestones by Dahboo77 and Mark Dice
The Man Behind The Guidestones
More Update on Guidestone happenings
I host the Church of Mabus radio show and it is going on 8 years. I've been in the paranormal community for 20 years. I provide content from a network of sources and guests and allies. Ranging from Politics to the Paranormal and the Spiritual. You can check out my other articles here at my BIOGRAPHY at BIN and you can check out my free radio show at this link HERE. Thanks for showing your support and stopping by!
We encourage you to Share our Reports, Analyses, Breaking News and Videos. Simply Click your Favorite Social Media Button and Share.