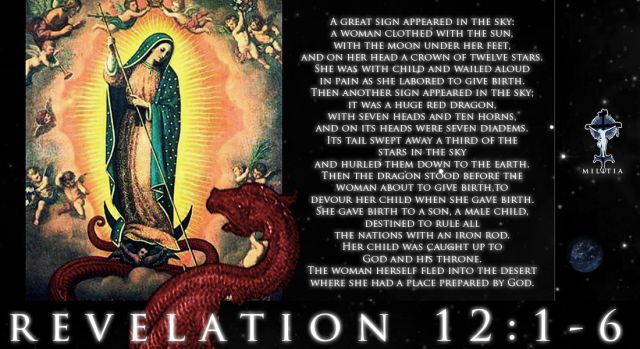 Revelation 12:1-6
The Woman and the Dragon
12 A great sign appeared in heaven: a woman clothed with the sun, with the moon under her feet and a crown of twelve stars on her head. She was pregnant and cried out in pain as she was about to give birth.Then another sign appeared in heaven: an enormous red dragon with seven heads and ten horns and seven crowns on its heads. Its tail swept a third of the stars out of the sky and flung them to the earth. The dragon stood in front of the woman who was about to give birth, so that it might devour her child the moment he was born. She gave birth to a son, a male child, who "will rule all the nations with an iron scepter." And her child was snatched up to God and to his throne. The woman fled into the wilderness to a place prepared for her by God, where she might be taken care of for 1,260 days.
A woman clothed with the sun, and the moon under her feet, and upon her head a crown of twelve stars.—All the lights of heaven are brought together here for a description which cannot fail to remind us of the picture of the Shulamite in the Canticles (Song of Solomon 6:10): "Who is she that looketh forth as the morning, fair as the moon, clear as the sun, and terrible as an army with banners (or, the heavenly host)?" It is the picture of the bride, the Church. The beams of the divine glory clothe her; she has caught—like Moses—the radiance of her Lord, whose countenance was as the sun (Revelation 1:16); the moon is beneath her feet; she rises superior to all change, and lays all lesser lights of knowledge under tribute; she is crowned with a crown of twelve stars: the illustrious members of the Church (twelve being the representative number in Old Testament as well as New Testament times) form her crown of rejoicing in the day of Christ.
I host the Church of Mabus radio show and it is going on 8 years. I've been in the paranormal community for 20 years. I provide content from a network of sources and guests and allies. Ranging from Politics to the Paranormal and the Spiritual. You can check out my other articles here at my BIOGRAPHY at BIN and you can check out my free radio show at this link HERE. Thanks for showing your support and stopping by!
We encourage you to Share our Reports, Analyses, Breaking News and Videos. Simply Click your Favorite Social Media Button and Share.