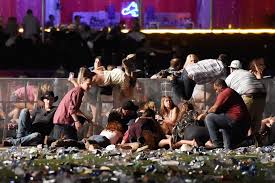 FINAL CONCLUSION ON VEGAS: The shooting probably happened, but not as stated and emergency responders were not allowed in to get the death toll as high as possible. This is the type of thing that happens in communist countries.
I gotta say it, I came across a SUPREMELY WEIRD PHOTO that irreparably destroys the official story (scroll down a little, it moved down the page)
I found a "supremely weird photo," in beyond full HD. It shows the hotel clearly after the shooting, and no windows are missing. Seriously folks, this photo needs some explaining! If there was a shooting, it happened on the ground and this photo shows so much it also proves all they did afterward was let people die.
Update to this photo (below, now down the page a ways)
If there were 500 injured, where was the ambulance response? Were they told to stand down? And were the victims allowed to bleed out overnight to maximize the death count? Why no late night investigation or ongoing emergency response?
The photo below is being marketed as "Police secure area after Mandalay Bay shooting". It appears legit. If so, there is no official story, it is DOA. Ok, to get things started. First of all, this photo is huge, and clear. save it (with a double click, not a right click) to desktop and then view it as large as needed to confirm the following:
1. The windows that should be broken by this time on Mandalay Bay are not broken. They must have been kicked out later in the night.
2. There is no ongoing medical cleanup, and the stage is turned off. You can't see the ground, but it is obviously a no action moment. Additionally, there is no investigation happening at Mandalay Bay in the appropriate room because the lights are off. The appropriate room is 9 floors down from the top of where the vertical lights start, or 6 floors down from where the exterior (wider) concrete starts.
3. This photo is obviously staged, and was taken on Giles street. It is obvious the street is shut down at the time of this photo, thus confirming the time frame it was purportedly from. Traffic in Vegas never stops, you can't have this type of photo going on at any time unless the street is shut down. Also, the street is covered in litter, which Vegas does not tolerate. This would strongly indicate that it was indeed taken after a horde of concert goers split.
WHAT IF the sound of gunfire was piped through the speakers, and it never happened at all? The speakers would surely be good enough to fake it. I am not going to expound on this, but I gotta say, this never made one second of news in Mexico which is very odd. Was this purely an American psy op? It is still clearly night time in this photo (below), why are there no police or ambulance lights present if there is a huge recovery operation underway? Why are the lights out in the room this happened in? Why are the windows still there? THINGS THAT MAKE YOU GO HMMMMMM . . . . .
DOUBLE CLICK the image, a right click will only save a low res 880 pixel version. This image is super clear at 3000 pixels width
Your browser will probably not open this image large enough to make what it is showing perfectly obvious. Use a real picture viewer (the normal windows one should work) and view it big.
Important to note: The left window that is later broken (after this photo) has a reflective or interior lit portion on it in this photo. It is not a drape sticking out, because it is only showing on the bottom portion of the window, and other similar anomalies show up on many windows in this photo. Please reference the other (daytime) photos that clearly show it is completely broken out later, which you can clearly see is not the case in this photo.
THINGS THAT MAKE YOU GO HMMMMMM . . . . .
MATT SUMMED IT UP PERFECT
(thanks, because I am fatigued and can't do it that well right now)
I am getting ready to call this a HUGE HOAX. At a minimum, certain aspects of this are now a proven total HOAX. Matt said it right, and the really weird crap shown in the photos above basically proves Matt is right:
"I'm a huge fan of your site and have been following it daily since your work on MH370. I don't think anyone except the patsy was shot in Vegas, and I think we have to look at the evidence that should exist but is entirely missing. We're supposed to think 500 were injured but none of them posted a video of themselves with non-life-threatening injuries to show friends and family that they were alive? There also should have been a huge triage area active for hours and ambulances a quarter mile both up and down the street in perfect view of Mandalay and Luxor but not one of the hotel guests posts this either? I could go on."
My response: YEP. After finding that high def photo, I don't believe anything happened at all. If that is so, the only injuries were from crowd panic, and whoever set up GoFundMe reaped millions. I think they used the concert speakers to hoax it now. There's just no getting over what that high def photo shows.
_________________________
THIS VIDEO IS IMPORTANT, BECAUSE IT PROVES THE STAGE CREW COOPERATED WITH THE SHOOTING
This video has been served by this web site more than 30,000 times. I still have plenty of bandwidth. GET THIS OUT THERE. HERE IS THE KEY VIDEO THAT DESTROYS THE LIE AND PROVES THE STAGE CREW COOPERATED BY LIGHTING THE CROWD UP LIKE A CHRISTMAS TREE SO SHOOTERS COULD GET A LARGE NUMBER OF HEAD SHOTS. This is the same video that is posted below, with an explanation for how the audio in the video proves the shooters were right there, at the concert. if you already have it, you don't need to click it again.
People are suspecting the snipers were on the Sphinx across the street. That would work. I still say they were probably above the stage, right where the huge bright lights come on. I don't think any of the musicians were in on the plot. Stage crews would be easy to infiltrate. One thing is certain, they absolutely were not shooting from the 32nd floor.
IMPORTANT: I just noticed another detail – in the video above, which was taken from the back of the crowd, the gunfire sounds close, but not immediately close. In other videos, where the people were right at the front of the crowd, the gunfire sounds like it is RIGHT THERE. If the shots originated at Mandalay, there would not be that difference.
Here's the Vegas conspiracy, as the "official" alt media consensus is putting it together.
Paddock was undercover FBI supplying arms to ISIS in America, Hillary fast and furious style. That fits, because he was a liberal. He did manage to get a bunch of guns up into the room for a gun deal.
Six FBI agents entered the room with a smart card key (all the hotel rooms in Vegas have had those for a while.) They have the security film footage of the perps dressed in normal civilian clothing but what looks like disguises including low drawn baseball caps and loose clothing. They entered the hotel room with a smart card. One used to open any room at the hotel but somehow they got one for this room. Apparently the hotel security saw this happen but thought nothing of it, and was told to go home after the events unfolded. Despite the fact that Paddock is FBI, the FBI decided to dispose of him for a psy op. They entered the room as gun buyers, killed Paddock and kicked out the windows as the operation unfolded. They created enough of a ruckus to convince people in surrounding rooms. Then they waited in the room while the FBI locked the area down.
After everything was locked down, the second wave of FBI agents kicked their way into the room to make it sound good for any witnesses hiding in neighboring rooms and the perpetrators for this part of the psy op walked out the front door, wearing FBI jackets. There is an airport nearby that they used to bug out. Most people suspect it was Israeli FBI agents that are now on a Mediterranean vacation.
QUESTION: Do I agree with this theory? Well, it sounds about right, provided it leaves room for the bulk of the shooting happening elsewhere. No muzzle flashes showing up from the 32nd floor at any point makes that part of the story a requirement.
If the security guard testimony of seeing six people enter the room with a smart card is accurate, and it probably is, SIX is a sacred Jewish number they attach to almost everything and the patsy had to die somehow. This would be precisely how a Jewish newspaper in Tel Aviv published the now official story LONG LONG LONG before the police could ever investigate adequately for anything of the sort to be published. It would take nothing for one of the six people who entered the room to phone home to Israel with a success story. This theory is probably bang on. You'll probably see this theory take off.
THIS IS WHAT AN AK-47 LOOKS LIKE AT NIGHT
This video is also cached on this web site and can be saved with a right click. Muzzle flash video
My comment on this video: This plainly proves no one was shooting from the hotel, it is SO FREAKING BRIGHT no one in a million years could possibly have missed it, no video camera would either, it probably would have put flashes across the entire face of the hotel. This is also far brighter than what the people claiming the shooting happened on lower floors are showing as examples. No missing windows there plus not bright enough equals squad car strobe relections.
This stands as evidence the shooting happened from behind the stage lights, as I said, because only the stage lights could have possibly concealed the flashes. There is all kinds of video of this shooting and no flashes like this to be seen in any of them. The only light source bright enough to hide that much of a flash at night was the stage lights. The stage lights are clearly shown in the video I posted below, And have also also re-linked here. This is a crucial video I am serving from this site, because it contains the key info that destroys the official lie. For the accompanying report, scroll down to the headline "Shooter could not have been at Mandalay Bay".
I host the Church of Mabus radio show and it is going on 8 years. I've been in the paranormal community for 20 years. I provide content from a network of sources and guests and allies. Ranging from Politics to the Paranormal and the Spiritual. You can check out my other articles here at my BIOGRAPHY at BIN and you can check out my free radio show at this link HERE. Thanks for showing your support and stopping by.
We encourage you to Share our Reports, Analyses, Breaking News and Videos. Simply Click your Favorite Social Media Button and Share.