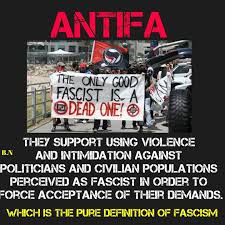 Antifa is a contraction of the word "anti-fascist". Antifa (United States), a movement of anti-fascist American activist groups. Antifa: The Anti-Fascist Handbook by Mark Bray. Anti-Fascist Action, a British group. Antifaschistische Aktion, a German group whose name means "Anti-Fascist Action".
November 5th Guy Fawkes happens is this shades of that on the 4th? Or crude mimickers who do not even know the story at all to begin with.
Catholic dissident Guy Fawkes and 12 co-conspirators spent months planning to blow up King James I of England during the opening of Parliament on November 5, 1605. But their assassination attempt was foiled the night before when Fawkes was discovered lurking in a cellar below the House of Lords next to 36 barrels of gunpowder. Londoners immediately began lighting bonfires in celebration that the plot had failed, and a few months later Parliament declared November 5 a public day of thanksgiving. Guy Fawkes Day, also known as Bonfire Night, has been around in one form or another ever since. Though originally anti-Catholic in tone, in recent times it has served mainly as an excuse to watch fireworks, make bonfires, drink mulled wine and burn Guy Fawkes effigies (along with the effigies of current politicians and celebrities). – History.com
I know Anonymous uses the Fawkes mask and it seems Anonymous doesn't like Antifa for using Anonymous's name. Video included below among the others. Thanks for stopping by!
I host the Church of Mabus radio show and it is going on 8 years. I've been in the paranormal community for 20 years. I provide content from a network of sources and guests and allies. Ranging from Politics to the Paranormal and the Spiritual. You can check out my other articles here at my BIOGRAPHY at BIN and you can check out my free radio show at this link HERE. Thanks for showing your support and stopping by.
We encourage you to Share our Reports, Analyses, Breaking News and Videos. Simply Click your Favorite Social Media Button and Share.