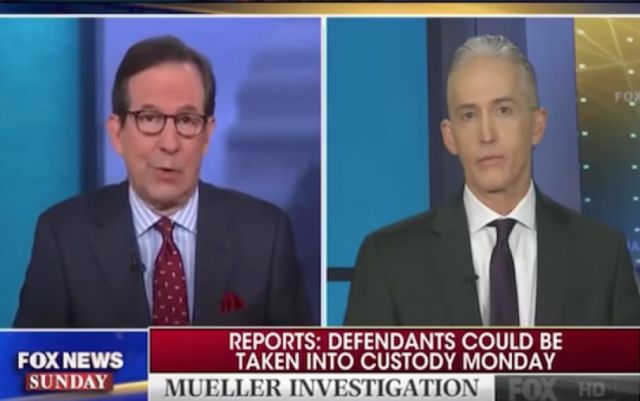 Former Prosecutor, Congressman Trey Gowdy (R-SC) is not happy.
The theory the President Donald Trump colluded with Russian government has been floating around the democratic side of the aisle ever since the future president made a joke about Putin finding the emails Hillary unlawfully erased. Not having a sense of humor, Team Hillary and the liberal media picked up the nonsense and ran with it during the 2016 campaign, and talked about it non-stop after Trump won the election. Falling for a trick planted by former FBI Director Comey, Deputy Attorney General appointed Robert Mueller being appointed as Special Counsel in order to further investigate the Russia matter and anything else he wants to investigate.
Now, according to a leak to CNN, Mueller has a sealed indictment of someone who will be arrested on Monday. The only problem with the leak that somebody, possibly on Mueller's team broke the law when they leaked the information to CNN. This unethical move was absolutely lambasted by Trey Gowdy on Fox News Sunday who is convinced the leak came from Mueller's team.
"Gowdy said it was 'kind of ironic that the people charged with investigating the law and the violations of the law would violate the law.'

"Gowdy said, 'In the only conversation I've had with Robert Mueller, I stressed to him the importance of cutting out the leaks with respect to serious investigations. It's kind of ironic that the people charged with investigating the law and the violations of the law would violate the law.'

"He added, 'Make no mistake, disclosing grand jury material is a violation of the law. Somebody violated their oath of secrecy.'"
There is the possibility that the leak is a Mueller tactic to smoke out more people with knowledge of the non-existent collusion. Prosecutors do this often, they leak "coming charges" for one individual in a few days and then observe people sweat. Any suspicious behavior by potential witnesses may be a sign of something more sinister in the air. But according to Trey Gowdy, using tactics like that to flip a witness doesn't work.
It is still not a legal or ethical leak, watch an angry Trey Gowdy on the video below:
Source http://lidblog.com/lambasted-trey-gowdy/
I host the Church of Mabus radio show and it is going on 8 years. I've been in the paranormal community for 20 years. I provide content from a network of sources and guests and allies. Ranging from Politics to the Paranormal and the Spiritual. You can check out my other articles here at my BIOGRAPHY at BIN and you can check out my free radio show at this link HERE. Thanks for showing your support and stopping by.
We encourage you to Share our Reports, Analyses, Breaking News and Videos. Simply Click your Favorite Social Media Button and Share.