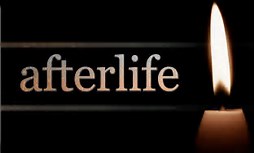 Afterlife: This one hour presentation I felt was important. Afterlife contains talk of a wide range of things: Life-after-death, the Lucifer project, heaven & hell, angels & demons, aliens, ufos, abductions, orbs,, Shroud of Turin, prophecy of End Times Israel, whats buried behind the empty Tomb of Jesus Christ….. and much, much more.
Afterlife is a SUPERNATURAL journey and SUPERNATURAL investigation into Life-After-Death. The afterlife, life after death, angels and demons are now science fact.
Afterlife: Is LIFE-AFTER-DEATH REAL?
Afterlife: What comes after death? Is hell a real place? Is heaven an actual realm or dimension? Does God actually exist? All these mysteries of life-after-death — and more — are addressed in the Afterlife documentary special presentation by Trey Smith.
Afterlife: The SUPERNATURAL journey and investigation into Life-After-Death.
Afterlife: The afterlife (life-after-death) is proven REAL by science, medicine, consciousness, and testimonies by every person who has died and come back.
Afterlife also examines supernatural alien-looking creatures, orbs, demons and angels in the "life-after-death" realm beyond the grave….
Afterlife: The "GOD" TRUTH about "LIFE-after-DEATH" was written, directed and produced by Trey Smith and the God in a Nutshell project.
Afterlife also contains footage from the Trey Smith documentary Entities. In these clips, alien looking creatures and a dimension of technological yet likely demonic origin runs parallel our own reality. Also, the largest of all life-after-death accounts of all time: Jesus Christ and His Resurrection from beyond the grave. Additionally, could the mysterious Shroud of Turin contain DNA, God-given radiation burns, and other evidence of the Truth of Jesus Christ?
Afterlife is roughly a 53 minute documentary journey into the supernatural realm of life-after-death.
I host the Church of Mabus radio show and it is going on 8 years. I've been in the paranormal community for 20 years. I provide content from a network of sources and guests and allies. Ranging from Politics to the Paranormal and the Spiritual. You can check out my other articles here at my BIOGRAPHY at BIN and you can check out my free radio show at this link HERE. Thanks for showing your support and stopping by.
We encourage you to Share our Reports, Analyses, Breaking News and Videos. Simply Click your Favorite Social Media Button and Share.