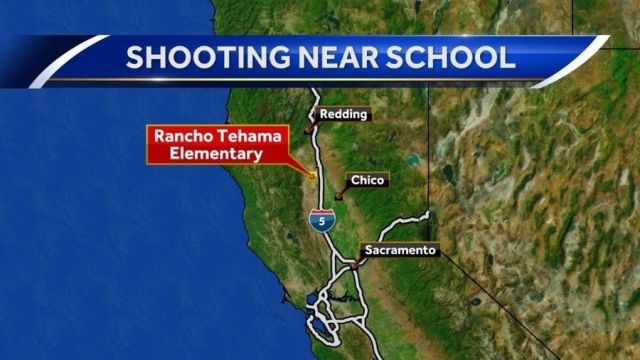 "The crazy thing is that the neighbor has been shooting a lot of bullets lately, hundreds of rounds, large magazines," Flint said. "We made it aware that this guy has been crazy, and he's been threatening us and everything. I just feel like there maybe should have been more effort put into stopping things like this."
ANCHO TEHAMA, Calif. —
A reported shooting in northern California has left at least three people dead.
The Tehama County Sheriff's Office says the shooting happened at an elementary school in Rancho Tehama around 8:00 am. local time. Rancho Tehama is about 115 miles north of the state capital of Sacramento.
A Corning Unified School district employee confirmed there were injuries at the school.
Police are investigating at least five crime scenes. At least 100 law enforcement officers have responded to the crime scenes. The children inside the school have been moved to a safe location.
"Multiple students" have been airlifted from the scene according to Assistant Sheriff Phil Johnston. Johnston told local media at least three people are dead, but did not elaborate if any students were among the dead.
Law enforcement says the shooter was shot and killed by police.
Video: "The crazy thing is that the neighbor has been shooting a lot of bullets lately, hundreds of rounds, large magazines," Flint said. "We made it aware that this guy has been crazy, and he's been threatening us and everything. I just feel like there maybe should have been more effort put into stopping things like this."
A 6-year-old and another child are among the injured. The Redding Record Searchlight reports a 30-year-old man has also been taken to the hospital with gunshot wound to the thigh.
LIVE STREAM
Praying for everyone affected there…why would they DO such a thing?!
Smells like another Sandy hoax.
My prayers goes out to everybody affected by this heinous crime but if teachers would've been able to carry a gun they could've put a stop to that I need to gun free zone didn't that guy read the sign I mean the sign stops people from caring guns but that's just the law abiding citizens that obey the law but we're the ones that the Democrats are going to attack
so much for gun control…. wish you the best.
California with some of strictest gun laws on the book! Hmm!!!!!!!!
Getting ready for the gun control ghouls. 😡😣😣😣😣😣😣😣😣😣😣😣
But this is California? They are all enlightened to a level the rest of the country has yet to achieve. There is no hate, violence, and evil in California. Maybe this person just needed a hug? Maybe someone got this person's pronoun wrong? I didn't even know you could get guns in California what with all the strict gun control.
Source WDSU.com
I host the Church of Mabus radio show and it is going on 8 years. I've been in the paranormal community for 20 years. I provide content from a network of sources and guests and allies. Ranging from Politics to the Paranormal and the Spiritual. You can check out my other articles here at my BIOGRAPHY at BIN and you can check out my free radio show at this link HERE. Thanks for showing your support and stopping by.
We encourage you to Share our Reports, Analyses, Breaking News and Videos. Simply Click your Favorite Social Media Button and Share.