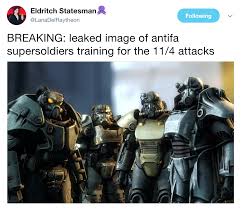 Here's some links to just a few articles and videos that seem to show that all the (Soros funded, I presume) "great Antifa protests" were not necessarily that "great". Anyway, at least they seemed mostly peaceful (quite unlike the post-election anti-Trump demonstrations).
he afternoon of November 4 arrived in midtown Manhattan like any other Saturday. Families breezed in and out of shops and restaurants along Fifth Avenue. Couples chatted on benches in Central Park, enjoying the crisp autumn air. You could easily be forgiven for not knowing that a protest billed Friday by Fox News as the "Antifa Apocalypse" was gathering on the south side of Times Square.
The so-called November 4 protests, which took place in cities across the country today, hosted by a nascent protest group called Refuse Fascism, will likely be remembered more for what they did not look like, than what they did. Far-right conspiracies had morphed the event into a fantasy world of unrealistic expectations. Antifa was going to start a civil war. Antifa-bred supersoldiers were going to behead white people in town squares across the country. These stories were pushed hard by far-right outlets like Alex Jones' Info Wars and Gateway Pundit, feeding an engine of clickbait to build a mind-blowing but utterly meaningless news story almost entirely out of thin air. – Yahoo
Protesters at state Capitol have little aloha for Trump
There were a handful of Trump supporters among the estimated 300 demonstrators. A small group of men identified themselves as part of the Proud Boys — a "pro-West fraternal organization," according to its Facebook page.
Trump supporter Edward Odquina made his way between the crowds with a "Make America Great Again" sign. Odquina, a production assistant and property manager, said he wanted to show the president that he does have supporters on the island.
"As an ex-Navy guy, I decided to show him support and let him know that there are real Americans, real patriots here, who support him," he said via StarAdvertiser
Hundreds of anti-Trump protesters stage peaceful march through downtown L.A.
Some were concerned Saturday's rally and march — just days before the anniversary of Trump's victory — would mirror the large, rowdy protests that followed Trump's election and inauguration. But Los Angeles police recorded just two arrests Saturday as a crowd of roughly 400 demonstrators marched from Pershing Square, through the jewelry district and past Grand Central Market, said Asst. Chief Michel Moore. The group began dispersing around 4:30 p.m.
A few dozen supporters of President Trump arrived at Pershing Square about 12:30 p.m. to challenge the demonstrators, but LAPD officers on bicycles quickly formed lines to separate the groups, reducing any potential physical confrontation. The Trump supporters did not obtain a permit, but LAPD allowed them to march in the opposite direction of the Refuse Fascism protesters, Moore said.
Source: https://kauilapele.wordpress.com/2017/11/04/the-grand-november-4-antifa-protests-seem-to-have-dudded-out-11-4-17/
I host the Church of Mabus radio show and it is going on 8 years. I've been in the paranormal community for 20 years. I provide content from a network of sources and guests and allies. Ranging from Politics to the Paranormal and the Spiritual. You can check out my other articles here at my BIOGRAPHY at BIN and you can check out my free radio show at this link HERE. Thanks for showing your support and stopping by.
We encourage you to Share our Reports, Analyses, Breaking News and Videos. Simply Click your Favorite Social Media Button and Share.