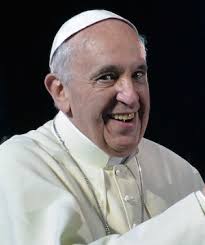 Pope Francis regularly mentions the devil in public speeches and on Twitter, with regular references to; the devil, Satan, the Accuser, the Evil One, the Father of Lies, the Ancient Serpent, the Tempter, the Seducer, the Great Dragon, the Enemy, demon, and legion.
Note the terminology "serpent" and "dragon" – names some believe allude to reptilians (or "anunnaki") who are often associated with the underworld.
In an interview with a Catholic media outlet, Pope Francis provided some unnerving insight into the nature of Satan.
Perhaps the most chilling among his musings were that the devil is not simply some kind of boogeyman invented to frighten people, but is actually a genuine incarnation of evil.
"He's not like mist. He's not a diffuse thing, he is a person," Pope Francis told the Italy-based broadcast network TV2000.
Although he did not speak to the possible identity of the devil, His Holiness did express concern about anyone who may encounter the wicked individual and foolishly engage him.
"I'm convinced that one must never converse with Satan," Pope Francis said, "he's more intelligent than us, and he'll turn you upside down."
The Pope went on lament that the devil "always pretends to be polite – he does it with priests, with bishops. That's how he enters your mind. But it ends badly if you don't realize what is happening in time."
Some theologians attribute Pope Francis' words as well as his previous statements regarding Satan to his Jesuit background, but stress that the Pontiff speaks quite seriously when he talks of the devil and his nefarious ways.
While that may be the case, one also can't help but wonder if perhaps the Pope's knowledge of Satan is also informed by his role as the head of the Catholic Church and whatever secrets he may have been told upon assuming the position.
To that end, it's far more troubling to hear that Satan is a living being that can outsmart humans when it is said by the Pope rather than the guy on the corner handing out Chick Tracts.
Source: The Telegraph via CoasttoCoastam
I host the Church of Mabus radio show and it is going on 8 years. I've been in the paranormal community for 20 years. I provide content from a network of sources and guests and allies. Ranging from Politics to the Paranormal and the Spiritual. You can check out my other articles here at my BIOGRAPHY at BIN and you can check out my free radio show at this link HERE. Thanks for showing your support and stopping by.
We encourage you to Share our Reports, Analyses, Breaking News and Videos. Simply Click your Favorite Social Media Button and Share.