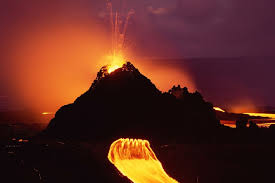 According to some the Volcanos are being trigged by Geothermal Power Plants and California could be next. If you noticed in Hawaii the eruptions engulfed a power plant. So these things are happening near them obviously. We will continue to see more and more eruptions and definitely California is in the crossheirs.
Injecting liquids into waste disposal wells, most commonly in disposing of produced water from oil and natural gas wells, has been known to cause earthquakes. The resulting increase in subsurface pore pressure can trigger movement along faults, resulting in earthquakes. So there are many ways to trigger these quakes. People think they can continue to abuse the Earth like we are going to get a new one someday.
On the Big Island of Hawaii, where the Kilauea volcano has explosively erupted, there is a geothermal energy plant. It is the Puna Geothermal Venture (PGV) Plant, in Puna.
There is a long-running debate about whether PGV is fracking. The debate is a matter of terminology, because in the geothermal process, as hawaiifracking.com reports, "…the drilling and the injection of cold water into hot rocks used in geothermal energy plants does fracture the rocks, which can induce earthquakes and through contamination of the atmosphere and water tables can affect our health and safety."
Whether deep injection of fluid aims to capture oil, gas, or heat (geothermal), the beginning stage of the process is the same.
Earthquakes induced by this water-injection could obviously trigger a volcano.
Scientists pretty much agree that the earthquakes are being caused by human activity in the area. But there's some confusion among the public about exactly what activities are causing the rumbles, with the major misconception being that hydraulic fracturing, or "fracking," is the main culprit.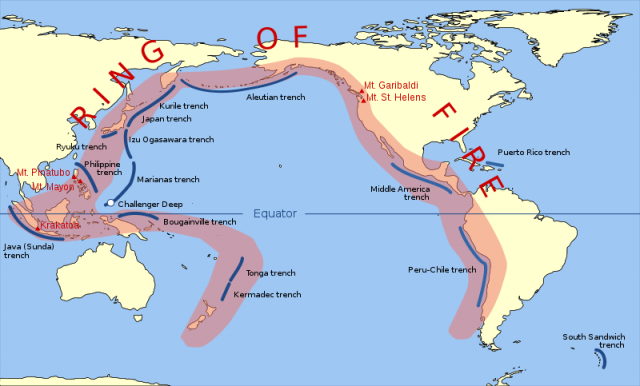 California Volcanos likely to erupt first.. It's not only a possibility in the Hawaiian Islands.
A chain of about 40 volcanos runs along the West Coast between Canada and Mexico and all have the potential to become active. (The potential for each peak is outlined in the gallery above.)
They've all erupted at least once in the past 10,000 years and they all have a supply of magma under them.
Some of these are classic cone-shaped mountains with craters at their centers, while others are barren fields dotted with volcanic features such as steaming vents and hot springs, cinder cones and lava flows and tubes.
Eighteen of those have threat potentials ranked "high" or "very high," and among them experts say Mount St. Helens is the most likely to blow. Next in line are two in California: Mount Lassen and the Long Valley Volcanic Region. via SFGate
Volcano Update
More than 2,000 people have been evacuated from their homes since the eruption started more than one month ago.
As of Monday, 533 homes had been destroyed by the explosion, according to Hawaii Civil Defence.
As well as homes and buildings, the lava flow has also destroyed natural areas, habitats, and at times, whole ecosystems.
According to the United States Geological Survey, the event, while tragic, is part of the Earth's natural course.
David Damby, a volcanologist with the USGS told the Guardian: "From a human point of view, what's happening is tragic.
"But from the volcano's point of view, that's the job she does: to build new land and change the landscape.
"That's the way the earth works."
Puna is the area that has been most affected by the eruption, and before the explosion, the area was an important habitat for wildlife, as well as people's home, but it will now likely take 100 years before areas of forest can begin to grow again. Express.co.uk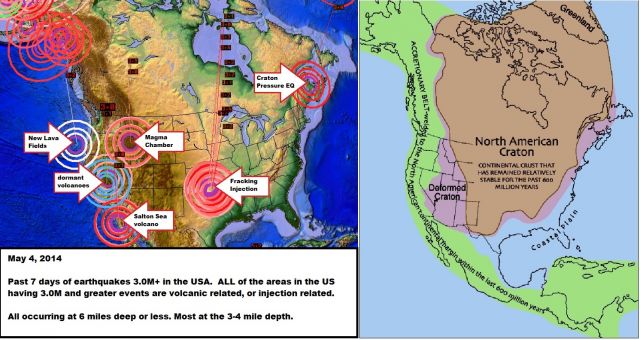 Rappoport had a great break down about the Volcano event as well from Coast To Coast AM though the video could not be found.
http://beforeitsnews.com/alternative/2018/06/rappoport-on-coast-to-coast-am-the-hawaii-volcano-3620634.html
Military Update news : Hawaii volcano eruption: 30 BILLION gallons of LAVA released by Kilauea over Big Island
DutchS on Hawaii Volcano Update
Next video Michael Salla on Coast To Coast Am Coast to Coast AM May 29, 2018. First-hour guest Michael Salla reported on the latest details about the Kilauea volcano eruption, and curious events in Antarctica. Salla lives on the Big Island and moved away from the active volcanic area weeks ago. He said that it shows no signs of slowing and "looks like it will be erupting for quite some time." He also warned that a large piece of land could dislodge and drop into the Pacific Ocean, causing a "mega-tsunami" which could be as high as 100 feet if it reached the west coast of the US. Salla also mentioned the discovery of 91 dormant volcanoes under the snows in Antarctica, which could be melting the ice cap from below, and described the environmental impact of such a scenario.
I host the Church of Mabus radio show and it is going on 8 years. I've been in the paranormal community for 20 years. I provide content from a network of sources and guests and allies. Ranging from Politics to the Paranormal and the Spiritual. You can check out my other articles here at my BIOGRAPHY at BIN and you can check out my free radio show at this link HERE. Thanks for showing your support and stopping by.
We encourage you to Share our Reports, Analyses, Breaking News and Videos. Simply Click your Favorite Social Media Button and Share.