Dr Maurice Sklar had a message from God on Rosh Hashanah Eve 5777, at 12:00 am which is October 1, 2016. God is warning to USA and other countries and ask Christians to repent their sins. Yeshua is coming for the holy and righteous brides. We must be ready for His coming.
"Warn America and the nations! Warn the backslidden, compromising church again of the great judgments soon to come!
"Much greater persecution is coming on the earth against the church. The anti-Messiah spirit is rising up with every passing day and increasing its' grip upon the nations as Satan's hour to deceive the nations is coming ever nearer. It violently resists any manifestation of My true anointing flowing out of My Body – My Bride – My faithful and true, overcoming sons and daughters. The true believers are being separated from the false like the kernels of wheat are separated from the worthless chaff on the threshing floor of the earth."
"Multitudes are and will be harvested in the valleys of decision. More and more of your liberties and freedoms will be suddenly be removed that you so selfishly take for granted at this time. Your only real choice now is revival – or judgment. The grace to live in sin and compromise without any consequences is coming to an end! Judgment has come to the House of God first, as it is written. Then I will restore Israel completely before the entire world and judge the nations in My Holy wrath, as it is clearly predicted by My Holy prophets in the Bible.
"Deception – in all forms of religious and spiritual idolatry are increasing exponentially as this Day draws near. You are in the prophetic midnight hour now. Run to God and repent of your wickedness at the Mercy Seat of My Grace while you can still do so. When the doors are shut and the Tribulation begins, what will you do then? Oh My people, cry out to Me for a double portion of oil for your lamps. I am coming very soon to take My overcoming Bride out of this wicked world and I am bringing you home to be with Me forever, as I promised! Hold on to your consecration to Me! Continue faithful to the end and you shall receive a crown of glory that fades not away!"
"Economic judgment – under the unbearable weight of the power of unbridled, massive, worldwide debt – the economies of the Babylonian system of nations – will soon collapse, preparing the way for what is called by many 'the new world order'. This new spiritual, political, and economic system – which is not really new at all – will soon enslave all who live on the earth and the Antichrist will be worshiped by all, in order to survive."
"Oh My people, heed My warnings! It is upon you!"
"Put your treasures in eternal things. Then your heart will be safe and you can flee from the wrath to come. Love not this present world and the things that are in it. Set your affections on things above that are forever enduring and cannot be stolen from you."
"Open war is coming against Israel and will result in multitudes more killed in the Arab nations surrounding Her. Damascus will soon be completely destroyed and never rebuilt, as I have declared in Isaiah 17."
"I made a covenant with those who fought in WW2 that I would grant the Western powers of Europe and America 70 years of worldwide peace and prosperity under NATO because they stopped Nazi Germany and helped to birth the nation of Israel. Those 70 years are over."
"Now, this wicked generation has forgotten Me. You worship demons and devils in My place. You have turned your backs to me in defiance. The blessings of peace are soon to end! Psalm 83 and Obadiah will be literally and totally fulfilled. So will Ezekiel 38 and 39 soon after. Iran, Russia, and their allies will suffer the same humiliation and defeat as they try to destroy My people, once again."
"I will surely destroy the militant Islamic regimes that are terrorizing the Middle East and many nations. Israel is My cheese in the mousetrap of the nations. I will stand up and fight as a Man of War to defend My covenant that I made with Abraham, Isaac, and Jacob. As you have done to Her, I will surely do to you."
"You ancient enemies of Israel – Hear the Word of the LORD! You shall all be defeated! You shall fall and perish before the eyes of the entire world; never to rise again! Then, all shall know that I, the Most High God – I AM the Holy God – the Holy One of Israel – as it is clearly written in My word. From the beginning I have prophesied the end. It shall surely come to pass exactly as it is written!"
"I will gather all nations in the valley of Jezreel, which is also Armageddon, and judge you there. All who hate Me, My people, and My nation will be destroyed by the sword of My own mouth when I return to establish My Kingdom upon the earth. This is not a fairy tale or a fantasy myth of religion. It will come to pass literally before your eyes. This is upon you now, and will be the fulfilled precisely when the Father has planned it. Nothing can stop these events shortly to take place!"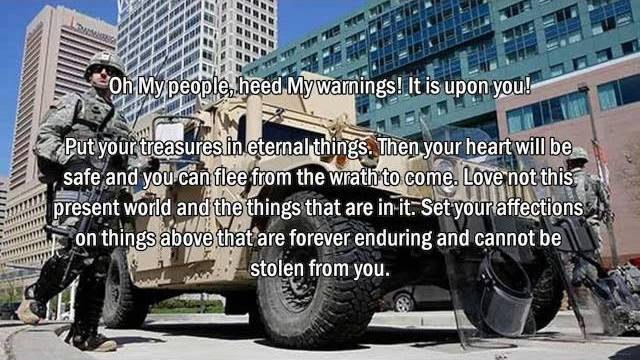 Sources:
https://www.facebook.com/permalink.ph…
Visit his ministry: http://www.mauricesklar.com/