Buying a series of Christmas gifts for work colleagues is a bit tricky. You don't necessarily know them personally that well (most you don't socialize outside the office) and so buying something that they'll like is difficult to get right. You also want to avoid purchasing something that will be seen as provocative or inappropriate in some way. Getting the right balance is difficult.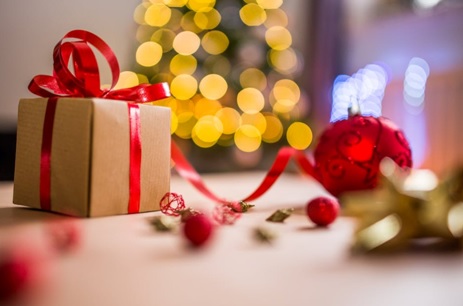 Here are a few quick Christmas ideas that should solve that problem.
Let's Do Lunch!
Carrying around a few business cards is the easier part; knowing where to put them so they look presentable and don't get the corners crushed is another matter entirely. Enter the Kate Spade Silver Street Business card holder. It's silver plated, decorated with the words "let's do lunch" on the top and has a convenient lip on the front edge to lift up the cover to extract a card at the opportune moment.
The card holder measures 3-inches wide by 1.5-inches high to accommodate most modern business cards.
A Mug for Every Occasion
One item that will never go out of fashion is the trusty coffee mug. Instead of drinking out of plastic cups, a coffee mug is a fun way to add some personality to a working space. It feels like bringing some personality into the office with you and as long as it's tastefully adorned, no one can complain about it.
The best ones are coffee mugs made in USA by companies that have a long history of producing excellent mug styles using different glaze colorings to make each mug an adventure.
Customizable Magnets
When we think about magnets, we picture kitchen refrigerator magnets. They're not really great in the office world. However, the Speks Buildable Magnets are another matter entirely. They come in packages of 512 little spherically-shaped magnets which can be moved around to create different appropriate shapes. They come in different colored sets including a special edition Rose Gold version that will be ideal for owners of a tech gadget in a similar hue.
Doggie Pillow
The green throw pillow comes in an indoor and outdoor version and with three size choices. It has a picture of two small dogs peaking out at the bottom of the pillow design which is ideal for dog loving co-workers. The cover is made from polyester poplin which is designed not to fade when used outside. It's printed on both sides for double doggie goodness and has a hidden zipper to remove the throw cover for washing.
There's also the option to create a custom throw cover using an image of your choosing. Tote bags, pouches, laptop sleeves and laptop skins are also available from the same supplier with similar customization options.
Finding the ideal gift for a co-worker is never easy. You want to go for something useful, yet not so personal that you may judge their tastes wrongly. Also, the price point matters too because there's only so much money to be put towards each employee's gift in a Secret Santa or gift giving by the owner of the business to their employees.
We encourage you to Share our Reports, Analyses, Breaking News and Videos. Simply Click your Favorite Social Media Button and Share.