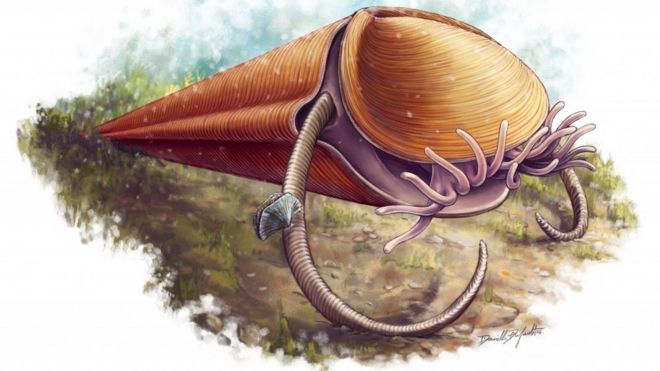 Image credit: Danielle Dufault/Royal Ontario Museum
An unusual creature that has defied classification since it was originally discovered on the ocean floor roughly 175 years ago has finally been placed on the so-called tree of life, researchers from the US and Canada reported in research published this earlier week in the journal Nature.
The extinct creature, known as a hyolith, was a marine species that had a cone-shaped shell and tentacles which it used while feeding, said BBC News. It originally appeared in the fossil record about 530 million years ago, the researchers said, and lived until about 250 million years ago.
According to Seeker, scientists long believed that the hyotlith belonged to the same family as squids and snails. However, an analysis of soft tissue recovered from more than 1,500 specimens recovered from the Burgess Shale site in British Columbia revealed they are actually Palaeozoic lophophorates – a group of invertebrates similar to the modern-day brachiopod.
The new study "solves this long paleontological mystery," lead author Joseph Moysiuk, a student at the University of Toronto, told BBC News. "We have been able to discover some new features of a very old group of fossil animals, and it's allowed us to reveal the evolutionary history of this group of animals."
Hyoliths, brachiopods shared common feeding structures
By studying the soft tissue of the hyoliths, Moysiuk and his colleagues were able to discover the existence of the tentacle-like structure protruding from its mouth. This apparatus, which is called a lophophore, was apparently used to help the creature feed, and the only current creature to have a structure similar to this are brachiopods – shelled, soft-bodied marine animals.
Unlike bivalve mollusks, the soft bodies of brachiopods are encased between upper and lower shells, not left and right shells. The open these shells while eating, but in all other instances, keep them closed to protect the lophophore. The hyolith has a comparable feeding structure, Moysiuk explained in a statement, indicating that it is a relative of brachiopods, not mollusks.
"Our most important and surprising discovery is the hyolith feeding structure, which is a row of flexible tentacles extending away from the mouth, contained within the cavity between the lower conical shell and upper cap-like shell," the study author said. "It suggests that these hyoliths fed on organic material suspended in water as living brachiopods do today, sweeping food into their mouths with their tentacles."
"Although a molluscan affinity was proposed by some authors, this hypothesis remained based on insufficient evidence. Hyoliths became an orphaned branch on the tree of life," added study co-author Bernard Caron of the Royal Ontario Museum. "Our most recent field discoveries were key in finally cracking their story, around 175 years after the first description of a hyolith."
—–
The post Ancient mystery creature finally finds a place on the Tree of Life appeared first on Redorbit.
redOrbit.com
offers Science, Space, Technology, Health news, videos, images and reference information. For the latest science news, space news, technology news, health news visit redOrbit.com frequently. Learn something new every day."
Source:
http://www.redorbit.com/news/science/1113417086/ancient-mystery-creature-finally-finds-a-place-on-the-tree-of-life/
We encourage you to Share our Reports, Analyses, Breaking News and Videos. Simply Click your Favorite Social Media Button and Share.