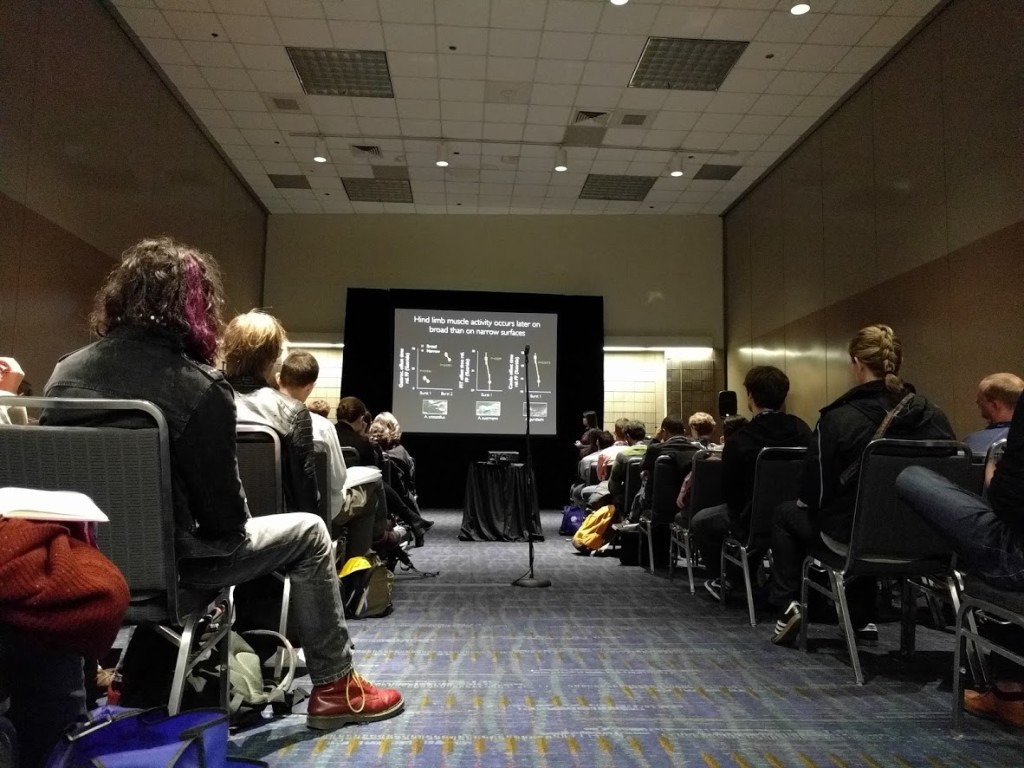 Kathleen Foster presents her work to a packed room at SICB.
Regular readers of AA will be familiar with the differences in microhabitat use that define the Anolis ecomorphs, but do species with such distinct structural habitats move differently on their specialized perches? In other words, does muscle function differ between the ecomorphs? In the very last session at this year's SICB, Kathleen Foster, currently a postdoctoral researcher at the University of Ottawa studying the biomechanics of fish locomotion (come back to anoles, Kathleen!), presented a portion of her graduate work in Tim Higham's lab at the University of California, Riverside, to address this question. She used high speed video to film five species of anoles running on broad and narrow perches at two angled inclines, combined with electromyography to record fore- and hindlimb muscle activity during running.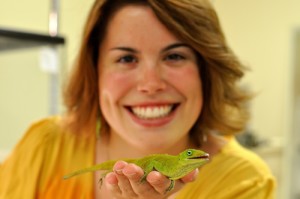 Photo courtesy of Kathleen Foster.
Kathleen found that all five species had greater motor unit recruitment on steeper inclines than on horizontal perches, and that muscle activity is shorter but begins more abruptly on inclines. Further, recruitment of the gastrocnemius (a "calf" muscle) was greater on broad perches, because the way lizards sit on narrow perches limits the function of this muscle. If you've seen how anoles position their feet on both sides of narrow perches, it's easy to understand how this posture prevents effective propulsion by ankle extension. Kathleen also found several intriguing differences that distinguish trunk-ground species' muscle function from trunk-crown and crown-giant species. The activity of the caudofemoralis (a limb retractor muscle in the hindlimb) changes more in trunk-ground species as a function of incline, and trunk-ground species use the biceps and gastrocnemius more in the early stance phase of propulsion than trunk-crown species.
Overall, these data help us understand how specialization in neuromuscular function can allow different anole species to successfully move through their varying habitats, and offer insight into how behavioral differences depend on the muscles that underlie them.
Source:
http://www.anoleannals.org/2017/01/11/sicb-2017-how-anoles-climb-trees-ecomorph-differences-in-neuromuscular-function/
We encourage you to Share our Reports, Analyses, Breaking News and Videos. Simply Click your Favorite Social Media Button and Share.