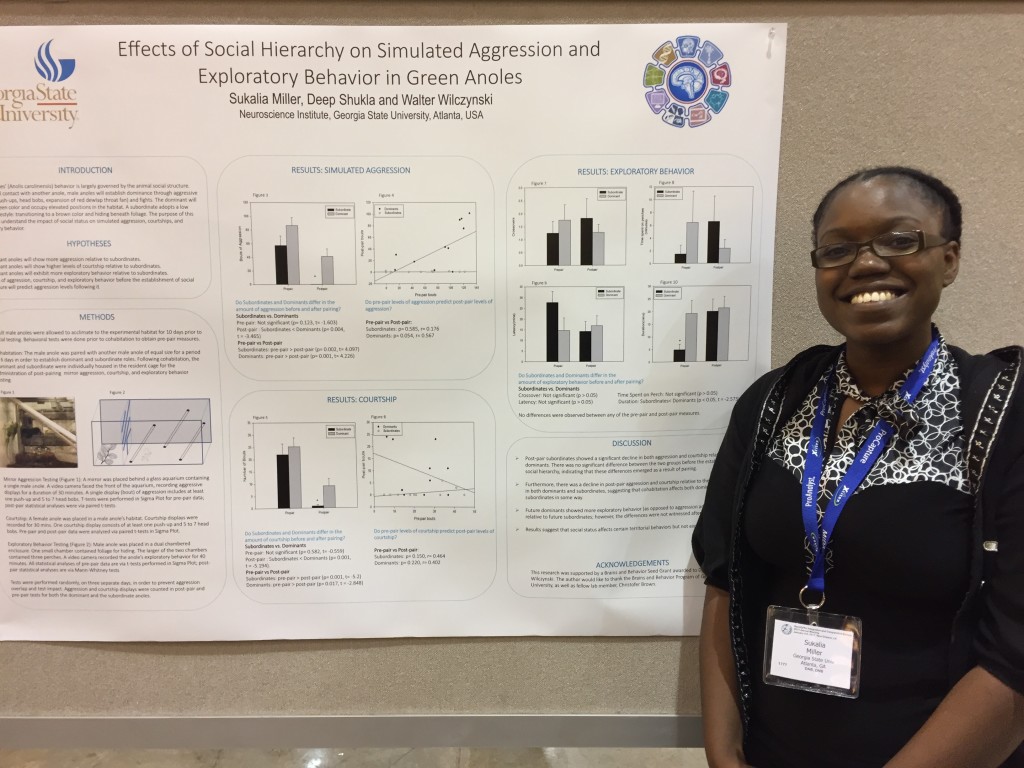 Sukalia Miller with her poster at SICB.
This post was written by Miguel Angel Webber, an undergraduate in Michele Johnson's lab at Trinity University.
An animal's position in a social hierarchy can influence many aspects of its behavior. In the green anole (Anolis carolinensis), a growing body of literature indicates that dominant males behave differently than subordinate males, and that these behavioral differences may be present even prior to the establishment of a dominance hierarchy. Sukalia Miller, a recent undergraduate in Walt Wilczynski's lab at Georgia State University, designed an experiment to determine whether subordinate and dominant males differed in their rates of courtship, aggression, and exploratory behavior.
After taking baseline measures of behavior, size-matched green anoles were paired and allowed to establish dominance relationships over the course of six days. Following this pairing, each lizard was then tested again to determine post-pairing measures of behavior. Miller found that subordinate males did not differ from dominant males in their rates of aggression (as simulated in a mirror test) or courtship (tested by placing a female in the habitat) prior to pairing, but that bouts of aggression and courtship practically disappeared in the subordinate group after pairing. Additionally, Miller found that there was a trend in the dominant lizards, such that individuals with higher rates of pre-pairing aggression had higher rates of aggression post-pairing. However, no such relationship was found between pre- and post-pairing rates of courtship in either the dominant or subordinate group, and no Miller observed no differences in exploratory behavior between either group of lizards.
These results suggest that the influence of social status on behavior may be limited to social behaviors in green anoles, and furthermore, that these behavioral differences may not be detectable prior to the establishment of a dominant-subordinate hierarchy.
Source:
http://www.anoleannals.org/2017/01/08/sicb-2017-social-hierarchy-influences-green-anole-behavior/
We encourage you to Share our Reports, Analyses, Breaking News and Videos. Simply Click your Favorite Social Media Button and Share.