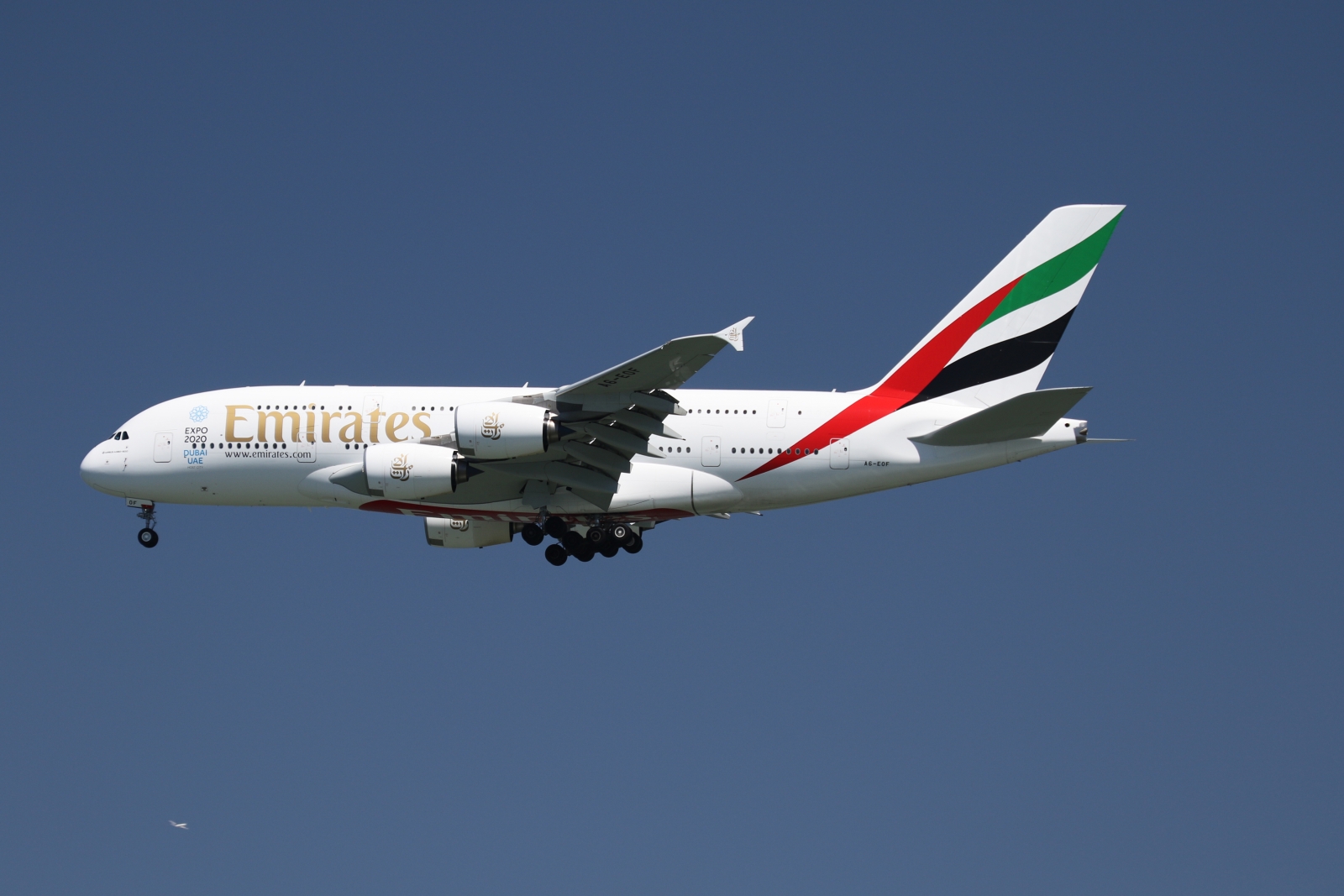 An Emirates A380 has been involved in a serious air accident that caused a smaller business jet to plummet 10,000ft and roll over multiple times in mid-air - Reuters
Wake turbulence rules for A380s require other aircraft to observe minimum separation distances of 5-8 miles in a variety of situations.
A harrowing freak air accident that has only just been revealed saw an Airbus A380 commercial jetliner flown by Emirates cause a much smaller business jet passing beneath it to flip upside down and plummet thousands of feet, reports the IB Times. The incident is a sharp reminder of why passengers should always wear their seat belts.
According to information obtained by the Aviation Herald, on the morning of 7 January an Emirates Airbus A380-800 was flying from Dubai to Sydney. While the aeroplane was en route over the Arabian Sea, roughly about 630 nautical miles southeast of Muscat, a Bombardier Challenger 604 business jet operated by German carrier MHS Aviation passed by 1,000ft beneath it.
A thousand feet might seem like a great distance between two aeroplanes, but the wake turbulence caused by the A380 jetliner was so great that one minute after the airliner passed by above, very high G-force sent the business jet into an uncontrolled roll that turned the aircraft upside down at least three, if not five times.
Both of the plane's engines flamed out, its Ram Air Turbine would not work and the aircraft plunged 10,000 feet. Fortunately, the aircraft's pilots managed to regain control over the Challenger 604 using "raw muscle force" and restarted the engines.
The aeroplane was diverted to Muscat airport in Oman for an emergency landing and several of the nine people on board the aircraft were taken to hospital, with one person sustaining serious injuries.
German authorities investigating damage to aircraft
To give you an idea of scale, the Airbus A380 is 73m long and usually weighs between 386-560 tonnes. In comparison, the Bombardier Challenger 604 is just 21m long and weights 17-21 tonnes.
The damage sustained by the Challenger 604 was so extensive that the aircraft has had to be written off. Germany's Federal Bureau of Aircraft Accident Investigation (BFU) is leading the investigation even though the incident occurred in international waters.
An example image showing the wake turbulence created by an aircraft – from a NASA study on wingtip vortices
Wake turbulence forms behind an aircraft as it passes through the air. It occurs in the vortex flow behind the aircraft's wings and is due to lift generated by high pressure below the wing and low pressure above the wing, which creates a sort of horizontal 'tornado' behind the wings that sinks downwards in the air until it dissipates.
Usually this phenomena is considered to be most hazardous if it occurs when a jetliner is taking off or landing, which is why such care is taken to allocate slots to aircraft at airports. However, there have been several incidences where wake turbulence has caused incidents in mid-air in the past.
Read more here.
Source:
https://tallbloke.wordpress.com/2017/03/20/a380-jetliner-flips-business-jet-upside-down-in-freak-mid-air-accident/
We encourage you to Share our Reports, Analyses, Breaking News and Videos. Simply Click your Favorite Social Media Button and Share.