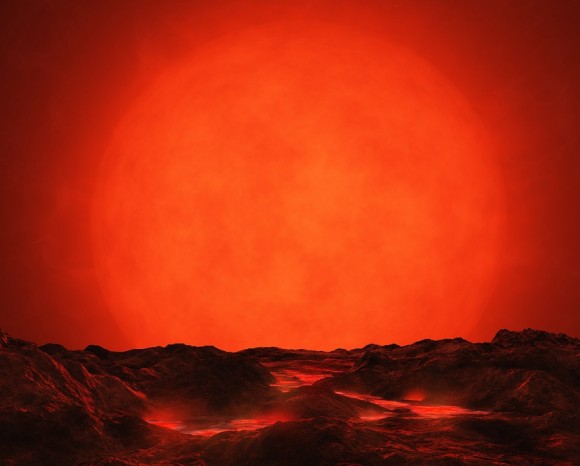 Illustration of the red supergiant Betelgeuse, as seen from a fictional orbiting world. © Digital Drew.
One has never been spotted for sure in the wild jungle of strange stellar objects out there, but astronomers now think they have finally found a theoretical cosmic curiosity: a Thorne-Zytkow Object, or TZO, hiding in the neighboring Small Magellanic Cloud. With the outward appearance of garden-variety red supergiants, TZOs are actually two stars in one: a binary pair where a super-dense neutron star has been absorbed into its less dense supergiant parter, and from within it operates its exotic elemental forge.
(…)
Read the rest of Astronomers Find Evidence of a Strange Type of Star (507 words)
---
© Jason Major for Universe Today, 2014. | Permalink | No comment |
Post tags: betelgeuse, Levesque, Small Magellanic Cloud, Star, stellar evolution, supergiant, Thorne-Zytkow, TZO

Feed enhanced by Better Feed from Ozh
Source:
http://www.universetoday.com/112374/astronomers-find-evidence-of-a-strange-type-of-star/
We encourage you to Share our Reports, Analyses, Breaking News and Videos. Simply Click your Favorite Social Media Button and Share.