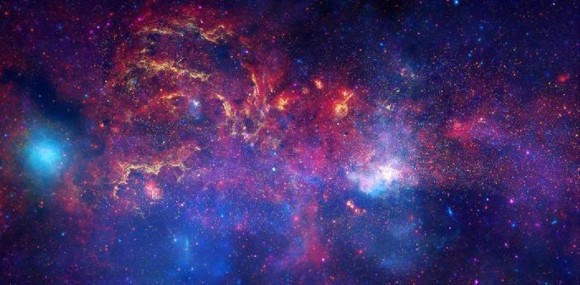 The galactic core, observed using infrared light and X-ray light.
Credit: NASA, ESA, SSC, CXC, and STScI
The galactic center is a happening place, with lots of gas, dust, stars (and surprising binary stars) orbiting a supermassive black hole about three million times the size of our sun. With so many stars, astronomers estimate that there should be hundreds of dead ones. But to date, scientists have found only a single young pulsar at the galactic center, where there should be as many as 50.
The question thus arises: where are all those rapidly spinning, dense stellar corpses known as pulsars? Joseph Bramante of Notre Dame University and astrophysicist Tim Linden of the University of Chicago have a possible solution to this missing-pulsar problem, which they describe in a paper accepted for publication in the journal Physical Review Letters.
(…)
Read the rest of Where Have All the Pulsars Gone? The Mystery at the Center of Our Galaxy (1,035 words)
---
© mwill for Universe Today, 2014. | Permalink | No comment |
Post tags: annihilation, anti-dark matter, antimatter, asymmetrical dark matter, Black Holes, Dark Matter, Einstein's Theory of General Relativity, esa, galactic center, Gamma rays, matter, NASA, Pulsars

Feed enhanced by Better Feed from Ozh
Source:
http://www.universetoday.com/115982/where-have-all-the-pulsars-gone-the-mystery-at-the-center-of-our-galaxy/
We encourage you to Share our Reports, Analyses, Breaking News and Videos. Simply Click your Favorite Social Media Button and Share.