ArtAlienTV
" What looks like a chair shaped structure on Mars in this recent Curiosity Rover image. It may just be something that is shaped like a chair but it does not look like a natural eroded rock and there is another interesting structure just to the right of it that also looks unnatural.
The chair shaped object is quite small. Perhaps 8 inches wide or less. So if it is a chair it is child size in scale.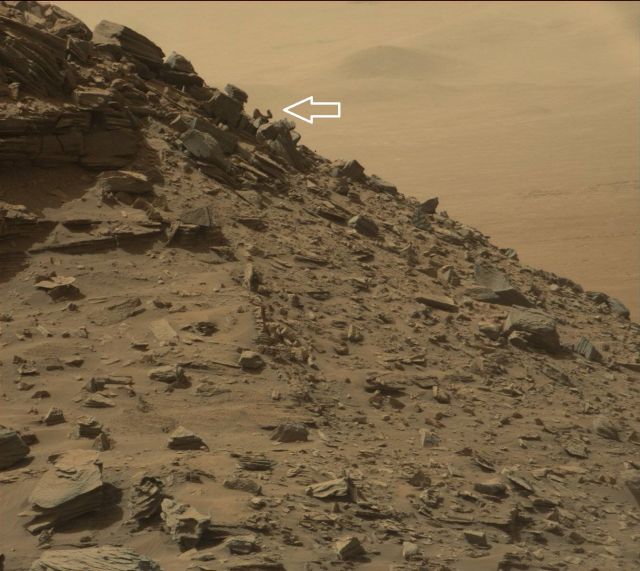 (Above: Object location. Raw NASA image)
It may well just be a ventifact caused by wind erosion but it is very symmetrical in appearance and looks manufactured.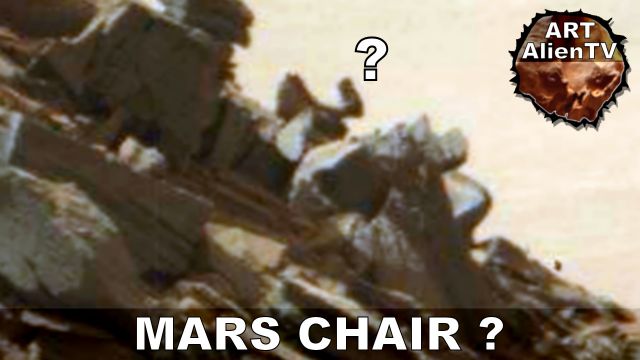 CLICK HERE TO SEE VIDEO: https://youtu.be/FAz-ZN2MGCg
Is it possible that this is evidence of a once populated planet ? Or just a random eroded sedimentary rock ?
We will probably never know as the rover has now passed by this area but there are hundreds more similar Mars finds on my YouTube channel that lead me to believe this could be a chair or something similar in structure.
An open mind is required when viewing images from other planets.
One day our very survival may depend on it ".
Joseph White – ArtAlienTV
Image Credit: NASA/JPL-Caltech/MSSS
National Aeronautics and Space Administration
NASA image link: http://mars.nasa.gov/msl/multimedia/raw/?rawid=1429MR0070690060702607E01_DXXX&s=1429
See me on the new Ancient Aliens series on the History Channel 2016. Episodes 1 & 2 – "Pyramids of Antarctica" & "Destination Mars"
MY WEBSITES – GROUPS & FREE APP
http://www.artalien.tv/
http://www.artalien.space/
ArtAlienTV – Mars Magazine https://www.facebook.com/groups/1774175719476725/
GET the FREE ArtAlienTV APP HERE: http://apps.appmakr.com/artalientv
Very powerful space app. Links to over 20 million images.
We encourage you to Share our Reports, Analyses, Breaking News and Videos. Simply Click your Favorite Social Media Button and Share.