This week, one of the most famous of the annual meteor displays is due to reach its peak: the Leonid meteor shower.
The meteor shower can be seen by viewers from both hemispheres. The Leonids will peak on the morning of November 17 and late at night of November 18 in 2016, just 3 days after a Full Moon.

Stormy times
The Leonid meteor shower is an extremely variable shower. A dense swarm of particles consisting of material that is shed by the Comet Tempel-Tuttle returns about every 33 years (the comet's orbital period), and if it crosses the Earth's orbit during November, an intense meteor storm is seen.
The Leonids produced spectacular displays — exceeding 1,000 meteors per minute —in 1799, 1833, 1866 and 1966 (when observers were left awestruck by the appearance of more than 2,000 per minute).
The recent lean years have generated only about a dozen or so Leonids per hour, but they are always somewhat unpredictable. The last really bright and spectacular Leonid shower occurred in 2001, when Leonids could be seen at rates of up to 40 per minute.
Space.com
http://www.space.com/34734-leonid-meteor-shower-2016-peaks-now.html
Clips, images credit: ESO, ESA/HUBBLE & NASA/JPL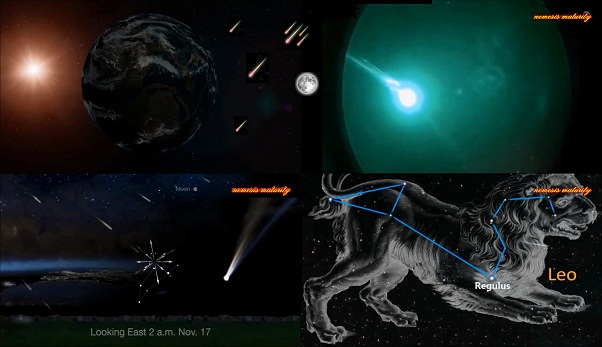 We encourage you to Share our Reports, Analyses, Breaking News and Videos. Simply Click your Favorite Social Media Button and Share.