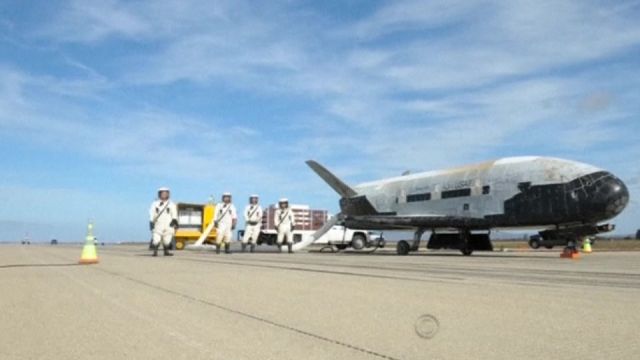 A sonic boom that rattled Central Florida early Sunday morning was no secret. What caused it was a secret military mission at Kennedy Space Center.
The U.S. Air Force tweeted Sunday morning that "The Air Force #X37B #OTV4 has returned from obit and landed safely at @NASAKennedy."
The X37B is a secret military unmanned mini-space shuttle, which as been orbiting the Earth for nearly two years on its fourth flight.
There were rumors back in February that the X37B might be returning to Florida. Now, after 719 days flying around our planet, the mini shuttle landed at Kennedy Space Center at its Shuttle Landing Facility.
According to NASASpaceFlight.com, reporting back in February, "Depending on the specific path the X-37B follows in its entry sequence – currently understood to be a descending node entry over portions of the United States and Florida – large swathes of Central Florida could be graced with twin sonic booms during the morning commute as the X-37B rather insistently heralds its arrival back home."
The site also noted that this would be the first time the mini shuttle landed at Kennedy Space Center, where America's space shuttle program used to call home for decades during their program.
"The ability for this fourth mission to attempt a return to the runway at Kennedy follows three highly successful, completely autonomous deorbit, entry, and landing sequences of the first three X-37B flights, which all ended with precise touchdowns on the runway at Vandenberg Air Force Base, CA," the site said.
The unannounced return of the shuttle — it was on a secret mission, after all — had Central Floridians wondering what they just heard or what woke them up.
Source OrlandoSentinel.com
Check out more contributions by Jeffery Pritchett ranging from UFO to Bigfoot to Paranormal to Prophecy
~~~~~
Most people who use social media have figured out that Facebook and Google are in cahoots with the government. For those who are well aware of the issues, it's high time you switched over to Seen.life. It is a website that is similar to Facebook but without all the censorship.
Firearm friendly, you may buy sell or trade anything allowed by site TOS rules.
We encourage you to Share our Reports, Analyses, Breaking News and Videos. Simply Click your Favorite Social Media Button and Share.