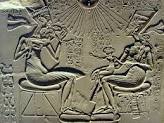 From temples to pyramids to statues, ancient technology moved giant blocks. For historians this is the stuff of nightmares. How do they deal with these anomalies? Megalithic structures have been discovered all over the world, from South America (Puma Punku) heading east to Japan (Ishibutai Tomb), and just about everywhere in between. Is it possible that ancient engineers built some of these towering structures?
This is a fast-paced and visual presentation on the gigantic megaliths around the world, many weighing as much as a thousand tons. There is no way of moving these giant stones without some sort of anti-gravity technology. Look at the astonishing buildings in Peru and Bolivia, including the curious and advanced construction techniques used in many parts of the world.
Ancient Aliens explores the controversial theory that extraterrestrials have visited Earth for millions of years. From the age of the dinosaurs to ancient Egypt, from early cave drawings to continued mass sightings in the US, each episode in this hit HISTORY series gives historic depth to the questions, speculations, provocative controversies, first-hand accounts and grounded theories surrounding this age old debate. Did intelligent beings from outer space visit Earth thousands of years ago?
We encourage you to Share our Reports, Analyses, Breaking News and Videos. Simply Click your Favorite Social Media Button and Share.