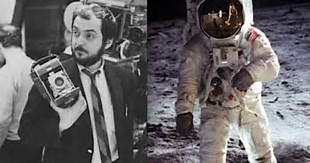 A conspiracy researcher studying photos from the Apollo missions believes that a reflection in an astronaut's visor captures evidence that the moon landings were hoaxed.
Posting his findings to YouTube, the anomaly hunter explained that he noticed the oddity while looking at images from the Apollo 17 mission which took place in late 1972.
To his amazement, he spotted what he suspects is a person standing across from one of the astronauts and is inadvertently revealed in a reflection.
Although the blurry appearance of this 'mystery person' makes discerning features rather difficult, the conspiracy theorist who found the photo argues that the interloper is not wearing a spacesuit and, thus, the setting is not on the moon.
While the image is quite compelling, skeptics suggest that, beyond the 'person' being a product of light and shadow, that there is an even more obvious explanation: that it is simply another astronaut.
What's your take on the oddity in the image? An earth-shattering find or little more than moon dust?
Was the moon landing faked by NASA and Stanley Kubrick in an effort to cover up the failure to execute John F. Kennedy's bold desire to have a man on the moon before the end of the 1960s? We discuss the theory with Bart Sibrel, who shares unedited NASA footage of the mission, and explains the reasons why the lunar landing was not possible in this uncensored Buzzsaw interview hosted by Sean Stone.
I host the Church of Mabus radio show and it is going on 8 years. I've been in the paranormal community for 20 years. I provide content from a network of sources and guests and allies. Ranging from Politics to the Paranormal and the Spiritual. You can check out my other articles here at my BIOGRAPHY at BIN and you can check out my free radio show at this link HERE. Thanks for showing your support and stopping by!
We encourage you to Share our Reports, Analyses, Breaking News and Videos. Simply Click your Favorite Social Media Button and Share.