The plane of the solar system is warped in the outer reaches of the Kuiper Belt, signaling the presence of an unknown Mars-to-Earth-mass planetary object far beyond Pluto, according to new research from the UA.
An unknown, unseen "planetary mass object" may lurk in the outer reaches of our solar system, according to new research on the orbits of minor planets, published in the Astronomical Journal. This object would be different from — and much closer than — the so-called Planet Nine, a planet whose existence yet awaits confirmation.
In the paper, Kat Volk and Renu Malhotra of the University of Arizona's Lunar and Planetary Laboratory, or LPL, present compelling evidence of a yet-to-be- discovered planetary body with a mass somewhere between that of Mars and Earth. The mysterious mass, the authors show, has given away its presence — for now — only by controlling the orbital planes of a population of space rocks known as Kuiper Belt objects, or KBOs, in the icy outskirts of the solar system.
Read more here: https://uanews.arizona.edu/story/ua-scientists-and-curious-case-warped-kuiper-belt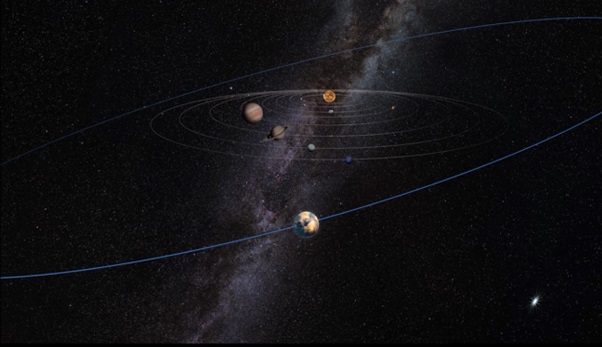 Clips, images credit: ESA/HUBBLE, ESO, NASA/JPL & Heather Roper/LPL)
We encourage you to Share our Reports, Analyses, Breaking News and Videos. Simply Click your Favorite Social Media Button and Share.