BeforeItsNews Announcements
Step 1: Get the Telegram App and Get Our Stories Direct To Your Phone or Computer Without Censorship!
Step 2: Join the BeforeitsNews Telegram Channel Using This Link!
Digital Warriors & Youtubers Welcome: Before It's News® Is A Community of Individuals Who Report On What's Going On Around Them, From All Around The World. Anyone Can Join. Anyone Can Contribute. "United We Stand" - Click Here To Create Your Personal Citizen Journalist Account Today, Be Sure To Invite Your Friends.

Story Views

Now:
Last Hour:
Last 24 Hours:
Total:
Jesus messages - continuing. UPDATE: no 118, 'IN THESE LAST MOMENTS OF HISTORY'
Tuesday, May 7, 2019 6:30
% of readers think this story is Fact. Add your two cents.

In my opinion, the first sin is sex without its purpose: that is, the bringing into the world of wanted and Destined children for their experience – not to fulfil our desires but their own. Sex for pleasure, or relief from sexual tension, is just a no no. The energy when redirected upwards in the body activates/energises the etheric wheels called chakras, and the whole being benefits. Better health, better brain power. Insights come. Peace comes, and one becomes more positive to the world – sending out energy rather than absorbing it all the time… We don't have to bend (away from the TRUTH), we have to stand firmly IN THE TRUTH!
Please don't walk blind. Walk with your eyes WIDE OPEN. Make your own decisions.. Do not follow anyone else, even the "norm", blindly.
Jesus in the Gospel of the Holy Twelve
Lection XCIII
The Order of the Kingdom (Part III)
http://reluctant-messenger.com/essene/gospel_10.htm
"3. AND another asked him, saying, If any be sick among us, shall we have power to heal even as thou dost? And Jesus answered, This power cometh of perfect chastity and of faith. They who are born of God keep their seed within them."
For previous messages in this 5th series, please see the link.
http://awatchmanonthewall.blogspot.com
1) 'ARMED AND DANGEROUS', June 22nd, 2018
2) 'STRONGHOLDS', July 1st, 2018
3) 'RAINBOWS vs RIGHTEOUSNESS', July 17th, 2018
4) 'A GREAT SHAKING VERY SOON', July 19th, 2018 (BIN link)
5) 'THE LOST AND THE DYING', July 29th, 2018
6) 'THE HARVEST IS FINISHED', August 3rd, 2018 (BIN link)
7) 'A COMING EVENT', August 7th, 2018 (BIN link)
8) 'MILLIONS CONTINUE TO DIE', August 11th
9) 'WOE COMING SOON', August 14th
10) THE CHURCH AS A WHOLE HAS FAILED, August 24th
11) 'TIME IS RUNNING OUT!', September 2nd
12) 'SILENTLY THE ENEMY ADVANCES', September 13th
13) 'SEEK RELATIONSHIP NOT SENSATION', September 24th
14) 'WAR FOR SOULS IN THE HEAVENLIES', October 9th (BIN link)
15) 'JUDGEMENT COMES', October 13th (BIN link)
16) 'YOKES BREAK, SPIRITS RISE', October 20th (BIN link)
17) 'WOE TO THE PEOPLE WHO SIN', October 24th (BIN link)
18) 'WE ARE AT THE ABYSS', November 1st, (BIN link)
19) 'TIME IS SO VERY SHORT', November 6th
20) 'GREAT LOSS', November 11th
21) 'SAY 'NO' TO WORLDLY STANDARDS', November 16th
22) 'GREAT SHAKING', November 16th (BIN link)
23) "AMERICA WILL BURN', November 24th (co-BIN link)
24) 'TIME IS SLIPPING AWAY', November 29th (co-BIN link)
25) 'NOW IS THE TIME', December 12th (BIN link)
26) 'I COME CARRYING A SWORD', December 17th (BIN link)
27) 'WHERE IS THE REVIVAL?', December 27th (BIN link)
28) 'MESSAGE FOR 2019′, January 1st (BIN link)
29) 'TELLING TIMES DEAD AHEAD', January 4th (BIN link)
30) 'MY CHURCH IS SMALL', January 9th, (BIN link)
31) 'ICEBERG AMERICA', January 12th, (BIN link)
32) 'GOD GRIEVES', January 16th (BIN link)
33) 'BATTLE FOR DOMINANCE', January 20th, (BIN link)
34) 'THE AXE IS AT THE ROOT', January 26th, (BIN link)
35) 'JUDGMENT COMES SWIFT', February 3rd, (BIN link)
36) 'EVENTS NOT PRETTY', February 10th, (BIN link)
37) 'THE TIMING OF SOON', February 16th, (BIN link)
38) 'SOUND THE ALARM', February 24th, (BIN link)
39) 'BAGGAGE', February 26th (BIN link)
40) 'AFTER TRUMP MORE DARKNESS', February 28th (BIN link)
41) 'POPE FRANCIS ON WIDE ROAD', March 4th, (BIN link)
42) 'A BRIEF TIME TO PREPARE', March 9th, (BIN link)
43) 'MILLIONS HAVE BLIND EYES', March 12th, (BIN link)
44) 'TROUBLE IS COMING', March 15th, (BIN link)
45) 'ONLY THROUGH THE CALVARY', March 19th, (BIN link)
46) 'DANGER DANGER AHEAD', March 22nd, (BIN link)
47) 'JUDGMENT COMES', March 26th, (BIN link)
48) 'DECEIT COMES', March 30th, (BIN link)
49) 'LIMITED TIME REMAINS', April 4th, (BIN link)
50) 'MILLIONS NOT READY', April 9th, (BIN link)
51) 'THE ROAD WE TRAVEL', April 12th, (BIN link)
52) 'PRAY FOR DONALD TRUMP', April 15th, (BIN link)
53) 'HOW GOD SEES US', April 21st Easter, (BIN link)
54) 'IT WILL HAPPEN SUDDENLY', April 23rd, (BIN link)
55) 'SOULS THAT WILL DIE', April 26th, (BIN link)
56) 'I AM LIGHT, NO SHADOW IN ME', April 29th, (BIN link)
57) 'A WATCHMAN'S SUMMARY', April 30th, (BIN link)
58) 'WE ARE THE VOICE', May 2nd, (BIN link)
59) 'SIN WITHOUT RESTRAINT BRINGS HELL', May 5th, (BIN link)
60) 'THE FODDER OF FALSE HOPE', May 9th, (BIN link)
61) 'THE MORE MORE MORE SYNDROME', May 13th, (BIN link)
62) 'MILLIONS WALK THE BROAD WAY', May 15th (BIN link)
63) 'ADDRESSED TO THE REMNANT', May 19th (BIN link)
64) 'FUNERAL DIRGE PLAYING', May 23rd, (BIN link)
65) 'BATTLE LINES ARE DRAWN', May 30th, (BIN link)
66) 'I WILL NOT ABANDON THE FAITHFUL', June 2nd, (BIN link)
67) 'SIN SWEEPS ACROSS THE NATION', June 6th, (BIN link)
68) 'ONE NATION UNDER GOD'S JUDGMENT', June 9th, (BIN link)
69) 'THE LORD TO YOU IS DEAD', June 12th, (BIN link)
70) 'I SEE YET SILENT UNTIL NOW', June 14th, (BIN link)
71) 'EVEN NOW YOU SEE THE BEGINNING', June 17th, (BIN link)
72) 'HE IS THE JUST JUDGE', June 21st, (BIN link)
73) 'THE TURNING IS NOW OR NEVER', June 24th, (BIN link)
74) 'AS I TOOK THE TEST, SO MUST YOU', June 25th, (BIN link)
75) 'THE GLOBAL VILLAGE', June 28th, (BIN link)
76) 'THEY HAVE STRAYED FROM ME.. IS CAUSE, July 1st, (BIN link)
77) 'WITHOUT ME ON INDEPENDENCE DAY', July 4th, (BIN link)
78) 'STORMS APPROACHING, TROUBLE AHEAD', July 6th, (BIN link)
79) 'AMERICA OBLIVIOUS TO RIGHT', July 9th, (BIN link)
80) 'MAN IS NOT READY' July 12th, (BIN link)
81) 'MAN IN BLIND DISBELIEF OF THE DANGER', July 13th, (BIN link)
82) 'MAN IMMERSED IN EGO IS DEVOID OF GOD', July 18th, (BIN link)
83) 'TO SEE, GET RID OF EGO', July 22nd, (BIN link)
84) 'A GREAT AWAKENING COMING SOON', July 26th, (BIN link)
85) 'THE CHURCH (PLURAL) IS CANCEROUS', July 29th, (BIN link)
86) 'TOWERS TO BE SWEPT AWAY', August 2nd, (BIN link)
87) 'AWAITING THE PRODIGAL', August 4th, (BIN link)
88) 'THE ROAD ENDS, SIN ENDS', August 8th, (BIN link)
89) 'A NATION GONE MAD ON SIN', August 11th, (BIN link)
90) 'THE BREAKUP CONTINUES', August 15th, (BIN link)
91) 'PERSONAL MIND VS SPIRITUAL MIND, Aug. 18th, (BIN link)
92) 'WHAT HAS TO BREAK FOR US TO BE FREE'. Aug. 22nd, (BIN link)
93) 'AMERICA'S DESTRUCTION', Aug. 25th, (BIN link)
94) 'THE END OF ALL THINGS IS NEAR', Aug. 29th, (BIN link)
95) 'TWO TRUTHS', Sept. 2nd, (BIN link)
96) 'GOD WILL SHAKE WHAT CAN BE SHAKEN', (BIN link)
97) 'THE COLLAPSE WILL BE SUDDEN', (BIN link)
98) 'A MESSAGE TO AMERICA', (BIN link)
99) 'GOD'S HAND IS STILL UPRAISED', (BIN link)
100) 'ARE YOU READY?', (BIN link)
101) 'HEADING FOR DESTRUCTION OF THE SOUL', (BIN link)
102) 'IT IS TIME !', (BIN link)
103) 'WAKE UP AMERICA; HEAR THE LORD', (BIN link)
104) 'EARTH WILL REVEAL HER BLOODSHED', (BIN link)
105) 'THE WIDE ROAD AND THE NARROW ROAD', (BIN link)
106) 'SLEEPY CHRISTIANS', (BIN link)
107) 'MILLIONS ARE HEADING TO HELL', (BIN link)
108) 'THE TRUMP PHENOMENON A FACADE', (BIN link)
109) 'AMERICA A LEAKY BOAT DESTINED FOR THE FIRE, (BIN link)
110) 'THE WAY OF LIGHT OR WAY OF THE DARK' (BIN link)
111) 'ISRAEL TOO WILL BE CUT OFF' (BIN link)
112) 'WE ARE NOT SAVED !', (BIN link)
113) 'SOUL ANGUISH WILL NOT CHANGE THE OUTCOME', (BIN link)
114) 'AMERICA WILL NOT BE SPARED', (BIN link)
115) 'THE WIDE ROAD TAKES ALL TRAVELERS TO HELL', (BIN link)
116) 'PRAY FOR DONALD TRUMP', (BIN link)
117) 'GOD'S CALL', (BIN link)
118) 'IN THESE LAST MOMENTS OF HISTORY', (BIN link)
Wednesday, November 13, 2019
Jesus
Your life has been compromised, your families are at risk. Churches have abandoned their first love, taking another path whose course leads to destruction. Choices you have made; made amidst a life of indifference to God' truth led to compromise, leading to a life of rebellion and finally to your rejecting the infallible Word of God; "Hath God really said." Man has fallen, unable to stand apart from the cross. Revolting against God, man' life of sin and rebellion continues. 'Though evil is sweet in his mouth and he hides it under his tongue (Job 20:12), there is no peace for the wicked, says the LORD (Isaiah 57:21)'. Your heart has been seared, parched by your disobedience and your careless regard for the ways of God.
Man flourishes; their faults, their failures they overlook as each day their chosen path takes them farther than they wanted to go, keeps them longer than they intended to stay and cost them far more than they ever imagined they would pay. 'You give your mouth free rein for evil, and your tongue frames deceit. You sit and speak against your brother; you slander your mother' son. These things you have done and I have been silent; you thought that I was one like yourself (Psalm 50:19-21)'. But in these last moments of history, God is speaking yet man centered doctrines of demons have spoken lies that you have eagerly embraced. Comparing yourself to others you have become puffed up, arrogant and proud. Understand it is 'by grace you have been saved through faith, and that not of yourself, it is a gift of God; not as a result of works, so that no one may boast (Ephesians 2:8-9)'.
Will you continue to live in the shadow of death among the tombs of the fallen? Will you continue to wallow in your sin without regard for what lies ahead for those that reject The Word of God? 'He who rejects Me and does not receive My sayings, has One who judges him, The Word I spoke is what will judge him at the last day (John 12:48). See to it that you do not refuse Him who is speaking for if those did not escape when they refused him who warned them on earth, much less will we escape who turn away from Him who warns from heaven (Hebrews 12:25)'.
The gates of the Ark will one day be closed. 'Night is coming (John 9:4)'…time will have passed for both saint and sinner. Allow Holy Spirit to remove the obstacles that hinder your walk of faith; 'Christ has set us free (Galatians 5:1)'; allow Him to work in your life to fulfill His plans and purposes in you. 'Do not take lightly the discipline of the LORD and do not lose heart when He rebukes you. For the LORD disciplines the one He loves, and He chastises every son He receives (Hebrews 12:5-6); stand fast and do not become entangled again in a yoke of bondage (Galatian 5:1)'.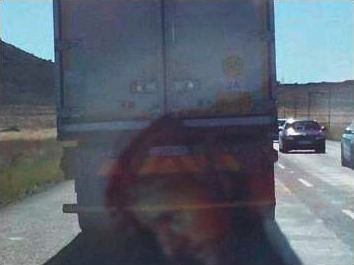 Jesus in South Africa in 2013
Before It's News®
is a community of individuals who report on what's going on around them, from all around the world.
Anyone can
join
.
Anyone can contribute.
Anyone can become informed about their world.
"United We Stand" Click Here To Create Your Personal Citizen Journalist Account Today, Be Sure To Invite Your Friends.
---
Support BeforeitsNews by trying our natural health products! Join our affiliate program
Order by Phone at 888-809-8385 or online at www.mitocopper.com

Get our Free Ebook, "Suppressed Health Secrets" with Natural Cures THEY don't want you to know!
APeX - Far superior to colloidal silver! Destroys Viruses, Bacteria, Pathogens with Oxygen plus Silver!
Supreme Fulvic - Nature's most important supplement! Vivid Dreams again!
Ultimate Curcumin - Natural pain relief, reduce inflammation and so much more.
MitoCopper - Bioavailable Copper destroys pathogens and gives you more energy. (See Blood Video)
Oxy Powder - Natural Colon Cleanser! Cleans out toxic buildup with oxygen!
Organic Hemp Extract (CBD) - Full Spectrum high CBD (3300mg) hemp extract eases stiff joints, relieves stress and more!
Nascent Iodine - Promotes detoxification, mental focus and thyroid health.
Smart Meter Cover - Reduces Smart Meter radiation by 96%! (See Video)
FINAL WARNING! Diseases are EXPLODING! Watch this Video about APeX and You'll THROW AWAY Your Colloidal Silver! APeX destroys Viruses, Bacteria and other Pathogens with the power of Oxygen PLUS Silver! Nobody else has a product like THIS! See why the inventor hasn't been sick in 16 years and why you'll never hear about it on the FAKE NEWS! Get some now and tell your friends about it too so we can reach more people!
APeX Interview - Superior to Colloidal Silver from Lee Canady on Vimeo.
Learn about APeX Here and Get the 50 Page Report in PDF format. Call us at 888-809-8385 to order by phone.
---