After such a devastatingly painful 28-27 loss, it's completely understandable to feel hurt. Devastated. Heartbroken. Like the sports world is crumbling down around you. But just like any painstaking event in life, we'll go through the five stages of grief before we come out on the other side looking ahead to Week 5.
Let's go on the journey together, shall we?
Denial
(to be read in a Samuel L Jackson voice, with as many or as few MF's to be inserted to your liking)
Was yesterday just a dream?
NOOOOOPE!!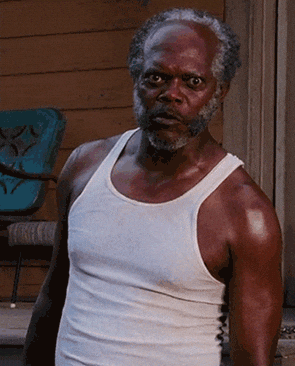 There is NO way we just lost that game. It's not possible. There's NO way a Super Bowl winning head coach would turn down guaranteed points and go for 2… WITH 18 MINUTES LEFT IN THE GAME!!
That's not what a Super Bowl winning coach does!
You know what else Super Bowl winning coaches don't do? Accept a penalty after a 3rd down stop, ESPECIALLY when the accepted penalty doesn't take the opponent out of field goal range, gives them a second chance and… HEY! TURNS INTO A TOUCHDOWN!
And speaking of coaching, there's NO way Dean Pees is foolish enough to take Jimmy Smith off of Michael Crabtree – a physical-on-physical matchup – and put Shareece Wright on him! And not only once! Crabtree scores on Wright, Jimmy goes back on Crabtree, then Pees is like 'nah, let's switch back' and hey! What'dya know! Another Crabtree touchdown against Wright! That's not what a good defensive coordinator does!
And let's just round it out and go for the trifecta with Marc Trestman here… MARC! CAN YOU HEAR ME SCREAMING FROM 227??? RUN!! THE!! BALL!! Seven carries in the first half in a one-score game? Are you kidding me??? You cannot honestly believe this is how an NFL offense should run… ever heard of insanity? Defined as doing the same thing over and over again and expecting different results? Maybe you need to take five minutes, jump on Cam Cameron's wiki page and see how his tenure ended in Baltimore as a look into your near future…
Anger
(to be read in Adam Sandler's voice from literally any movie when he goes from calm and complacent to full out yelling)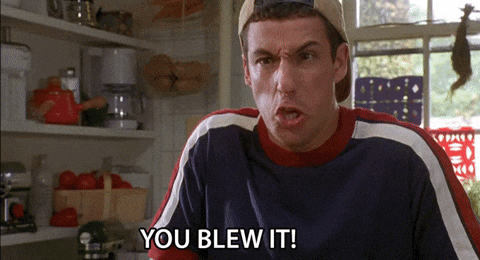 This team deserves to be 0-4, not 3-1, let alone 4-0 that I thought would be their record come 4pm yesterday.
I mean look at this team! Flacco has NO time to throw anything with fringe NFL players backing up the left side of the offensive line right now, and a center in Jeremy Zuttah who should be benched for Ryan Jensen about 4 weeks ago now… oh that's right! Jensen can't play center because he's gotta backup the left guard because the Ravens offensive line depth is non-existent!
Cripe, Joe Flacco takes two steps back on a three-step drop and he's already running for his life… or just forcing a bad throw… or getting stripped trying to force a bad throw. Some superior decision making there!
But it's not all on Joe when the receivers don't have any time to actually get out of their breaks or run the full route! And with the surplus of speed and talent going to waste, I'm looking back at you Marc Trestman! If you KNOW your line leaks worse than Julian Assange, WHY NOT DESIGN PLAYS TO GET THE BALL OUT OF JOE'S HANDS QUICKER?
And here's a novel idea: RUN THE BALL! Do you actually understand how offenses work in the NFL? Seriously do you? SERIOUSLY… DO YOU? Maybe this week, look around the league and take some tips from other offenses? Or maybe sharpen up your resume and be ready for that pink slip because these offensive woes fall squarely on your shoulders!
And speaking of pink slips, Shareece Wright is the reincarnation of Frank Walker and the fact that Dean Pees continues to trot him out while the team continues to keep Will Davis is inactive is absolutely MIND BLOWING.
What is the deal with this team? Why is the decision making this poor?
This is a SUPER BOWL WINNING FRANCHISE WITHIN THE LAST DECADE! THERE ARE NO EXCUSES FOR THIS FAILURE!
Bargaining
(to be read in the most emo voice you're capable of producing. Think Monday morning BEFORE coffee)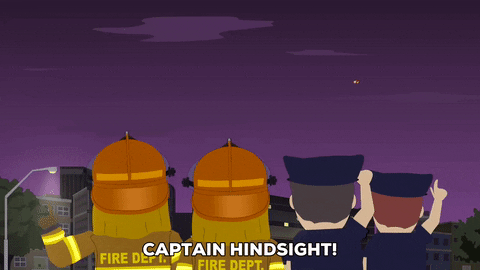 If only we would have taken the extra point in the 3rd instead of trying for two, then we at least would've had a tie game, the Ravens could have punted on 4th down and forced overtime… or maybe if Dean Pees would have just kept Jimmy Smith on Michael Crabtree all game long, Derek Carr wouldn't have continued to hit him in the end zone all day long… of course none of that would matter if Alex Lewis – who was active Sunday – would have played on the left side of the line to help Joe's protection, and lead to more points on the board.
Or maybe if the coaching staff would have been on their game yesterday with decision-making, we could have held Oakland to three on that 3rd down stop instead of accepting the penalty leading to a touchdown… so many little things could have changed the outcome… then again, maybe if the Ravens didn't collect yellow flags like Pogs in the early 90's they could have sustained drives and scored more points…
Depression
(To be read like Ron Burgundy in a glass case of emotion. Or possibly Bill Murray as Agent 13 in the Get Smart remake from 2008 when he was disguised as a tree. If you don't know it, watch it)
Welp, so much for my free Monday coffee…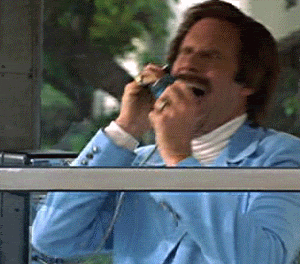 Who are we kidding? This season is a wash. If we can't beat a middling team like Oakland, and can only put up six points in the first half against their 31st ranked defense, how the heck are we going to score against better defenses? Pittsburgh? Cincy? New England? Philly?
We'll be lucky to go 6-10 at this point. Honestly, we're lucky to even be 3-1 right now. I mean, our victory over Cleveland is owed to Terrelle Pryor's taunting penalty more than the Ravens' actual play on the field.
Perhaps this bad luck loss to Oakland is just karma coming back around to bite us after that Cleveland game. But this is honestly what this team deserves for continuing to battle in these one-score games. 8-10 since the start of last season in one-score games… you just can't keep hanging on that ledge and hope not to fall.
And speaking of dangling on a ledge, how can we ever expect better results on the field when the coordinators are calling such awful plays? Think about it – if Dean Pess and Marc Trestman were both ousted tomorrow, would any NFL team touch them with a 10-foot pole? This week? By the end of the season? In 2017? They'd likely end up in the college ranks as coordinators, a la Cam Cameron's path.
I suppose at this rate, we should just prepare for another top-10 pick next season, and hope that Ozzie drafts well two years in a row – and hope that this pick doesn't end up injured like Ronnie Stanley. Or Bronson Kafusi. Or Breshad Perriman last season. Or Sergio Kindle a few years back.
Wishful thinking, I know.
Acceptance
(to be read in the voice you use when you are too hungry to continue to bicker with your spouse about where to order carry out from on a Friday night, and at this point you're just ready to eat anything, so you calmly agree with whatever she wants- don't act like you've never been there)
You know what? The Ravens are still 3-1 and there's no undoing what's already been done.
The Ravens lost a one-point game thanks to a myriad of mental mistakes, but we can only hope the team learns from them, grows and moves forward. And wouldn't we rather see this type of a loss come at the quarter pole instead of, say, 12 games into the season? They have adjustments to make, and time to make them.
And speaking of adjustments, the team also has space to go out and look for an additional offensive lineman to fill the backup roles they so badly need, but in the meantime, it's not rash to expect Alex Lewis and Ronnie Stanley will both return next week. Think about that for a second – the Ravens still managed 27 points on offense with two backups on Flacco's blindside that pretty much rolled over and conceded to the pass rush most of the day. It could've been worse!
And hey! WE DIDN'T LOSE MORE PLAYERS TO INJURY! Compare that to 2015 and you'll feel a bit better…
They'll learn from this, grow in spite of it, and move forward as a better team. And if those errors don't correct themselves, be it coaching or play on the field? We'll have to hope Ozzie, Harbaugh & Biscotti will make the necessary adjustments to help this team fulfill it's potential.
And at the end of the day, just remember folks: THE PATRIOTS GOT SHUTOUT AT HOME BY A BUFFALO TEAM THAT THE RAVENS BEAT IN WEEK ONE.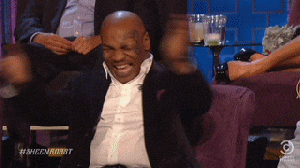 The post 5 Stages of Grief After a Ravens Loss appeared first on Russell Street Report | Baltimore Ravens News.
Source:
http://russellstreetreport.com/2016/10/03/street-talk/5-stages-grief/
We encourage you to Share our Reports, Analyses, Breaking News and Videos. Simply Click your Favorite Social Media Button and Share.