(Rahul Manchanda, formerly a media mouthpiece for war.)

NYC Attorney Rahul Manchanda
refused to sell his soul to the devil.
Now, the devil, represented by the
US government, media and justice system
is taking revenge.

by Henry Makow Ph.D.
Anyone who doubts the Illuminati's determination to provoke a third world war should heed the story of NYC immigration attorney, Rahul Manchanda, 42, who refused to demonize Iran.
In 2000, while still in law school, Manchanda, American-born of Indian descent, applied for a job with the CIA. He was interviewed but the work came in a different form. He became a salesman for the Iraq war often appearing on CNN and Fox. He was given "talking points" and groomed and supervised from afar by the likes of Frank Gaffney and Oliver North.
At the same time, his law firm mysteriously flourished, growing to a staff of 20. He became a millionaire with a beautiful wife and two kids. It was the American Dream.
The dream turned into a nightmare after a fact-gathering trip to Iran in 2006, sponsored by what may have been a CIA-front group called "Network 20." Manchanda found that contrary to Iran's image as a fanatic terrorist state, Iranians actually love the USA and just wanted to enjoy the American Dream as well. They were so crippled by sanctions they could barely keep their economy running, let alone pose a threat. They were friendly, intelligent, moderate people.
Manchanda's "whole world changed." When he returned, he was pressured to write a report which vilified Iran. Instead, he urged the US to abandon adversarial colonial approaches and support democratic change in Iran. He says his report possibly influenced the 2007 "National Intelligence Assessment" which determined that Iran was not a threat.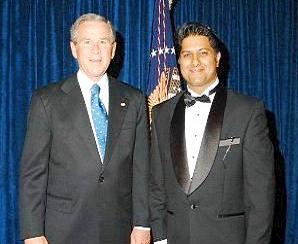 (With President Bush in happier times.)
Manchanda was a "star" being groomed for higher things. His ethnicity made war mongering more credible to Americans. Similarly, he says "Obama has killed more brown people than any other president. If McCain had done it, he would be a war criminal."
But after writing this report, Manchanda's Cinderella's Carriage quickly turned into a pumpkin. A series of scurrilous and defamatory lies appeared on "Rip Off Report" online, and both clients and staff fled his law firm in droves. "Overnight, I became a pariah," he says. He was persona non grata in the mainstream media. In 2010, he filed for bankruptcy. He is a one-man law firm today.
A George-Soros-funded feminist group, "Sanctuary for Families" got to his wife and she divorced him, taking their two children and involving him a protracted legal battle that was unwinnable because top NYC law firms donated their staff to this agency. Judges live in fear of it. All of his motions are denied. His appeals to higher legal authorities fall on deaf ears.
But the Illuminati weren't finish yet. A young woman, Kate Bose, who has connections with the NYPD Intelligence Dept. entrapped him in a romantic relationship. After they moved into together, she accused him of "menacing" her during a verbal argument. He faces a year in jail for having an argument with a woman and is convinced he will be murdered in prison.
Meanwhile Kate Bose, who was practically insolvent, was rewarded with a $100K job with Ralph Lauren.
Manchanda is in court Monday. The judge Tandra Dawson is reportedly on the board of "Sanctuary for Families."
Manchanda, a Freemason, is also being expelled from his lodge for "unMason-like behavior," the first person to be expelled in one hundred years. He says Freemasons have no love for Jews and are just using them to ethnically cleanse the Holy Land so they can rebuild Salomon's Temple.
Manchanda says he is one of a score of Indian-American celebrities being persecuted as a way of pressuring India to take a more anti-Iranian foreign policy. These include banker Rajat Gupta, intellectual Dinesh S'Souza, Indian ambassador Devyani Khobrogade, developer Lakhinder Vohra, hotelier Vikram Chatwal, Mathew Martoma, Indian Ambassador Prabhu Dayal, Indian Ambassador Daughter Krittika Biswas, noted human rights lawyer Chaumtoli Huq, Indian actor Shah Rukh Khan, United States India Political Action Committee CEO Sanjay Puri, and countless others – all in New York City.

I asked about the recent nuclear deal the US signed with Iran. Manchanda says the Neo Con lunatics do not yet have a complete lock on US foreign policy. Many loyal Americans in government are fed up with wars and waste. Indeed, Obama's popularity shot up after he defied the Zionist warmongers. This issue may be the only thing that can elect Hillary Clinton.
Rahul Manchanda thinks the Illuminati want him to commit suicide. He will never do so. His predicament demonstrates the decline of democracy and freedom in America today.
—