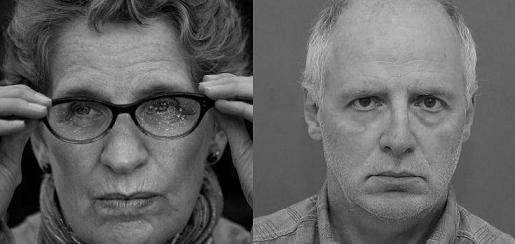 left. Lesbian activist Wynne & convicted pedophile Levin, who designed curriculum

Canvassers have found that roughly 80
per cent of Ontario residents are against
Katherine Wynne's "Sex Education Curriculum"

Huge protest planned Tuesday, April 14th from 10am at Queen's Park in Toronto.
Another at the same time in Victoria Park in London Ont.

by Thomas Carter
(henrymakow.com)
I've seen the powers that be get away with a lot of crap in the last 10 years. Fake terror, vaccinations, government bailouts, swine flu, illegal wars, naked body cameras, tasers, stolen elections, disappearing airplanes, the list goes on and on.
None of these seemed to arouse the suspicion or resistance of the general Canadian public. Naturally I had to ask myself, what do they have to do to get people to organize and fight back? Well, I think I may have finally received my answer.
They need a lesbian premier and her child pornographer buddy come out with a sex-ed curriculum where teachers talk to their children about gender identity, masturbation, anal sex, oral sex, and how to give consent well before they reach puberty, let alone the legal age. Where teachers will advise the child to seek out people other than their parents if they have a problem. Where teachers have to portray same sex marriages in a positive light.
MOBILIZATION
My first impression was that the resistance was just a few of the more courageous elements of society. After learning more, I see that people from all walks of life, all races and creeds, are joining forces and organizing themselves to fight back in any way they could.
Don't forget this is the same curriculum that [ex-Premier] Dalton MiGuinty shelved in 2010 because he thought the parental resistance was too much of a political liability. Maybe he sensed this would happen. But Wynne is different. She has already sacrificed her 14 year marriage to pursue her lesbian lover who she brought into her home to sleep next to her children's bedroom. She's a militant crusader for the GLBT movement and will stop at nothing to further their agenda.
We are the majority, let's show it.
After talking with those who organized door-to-door petition campaigns, I learned they found roughly 80% of people were against the curriculum yet they all thought they were the only ones. This is why I think big numbers for the protest will work wonders. People will know they are not alone. Two big protests are coming up next Tuesday, April 14th from 10am til noon. One will be at Queen's Park in Toronto and several thousand are expected. The other will be in London at Victoria Park; it is also expected to be large.
Another strategy that has worked well is contacting local MPPs. Just as the average Joe who feels he is the only one is reluctant to speak out so are members of parliament who think they don't have support from their constituents. At first MPP Monte McNaughton was the only one to challenge Premier Wynne on the curriculum with little support from his party but after parents got active and started to write e-mails and make visits the rest of the PC leadership found their courage and backed Monte.
If you have special skills or services that you could offer, do not hesitate to contact the people who run the following websites. Web designers are particularly needed. Spread the word.
www.parentsalliance.ca
www.p-first.com
Source:
http://henrymakow.com/2015/04/pressure-mounts-pedophile-procurement.html
We encourage you to Share our Reports, Analyses, Breaking News and Videos. Simply Click your Favorite Social Media Button and Share.