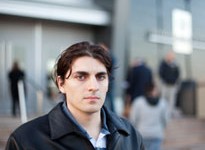 (left, not VF)
A reader feels like
an outsider in
his own hometown
"I speak perfect English but I can't seem to get a job in my own country! I have to know Spanish."

by Vincent Fraser
(henrymakow.com)
I'm a white male who lives in Los Angeles, Ca where I was born and raised. I'm also half Italian on my mothers side but my last name on job applications or on my resume displays my fathers "white" last name.
I just turned 40 on Monday, June 1 2015 and I'm completely broke and penniless. I've been unemployed since March of 2013 when I slipped at work and dislocated my shoulder.
I worked as a Barback and then Mixologist at a Luxury hotel in Beverly Hills, in their 5 star fine dining restaurant. I was in the kitchen one night when one of the cooks had left an oil spill without cleaning it up. As I approached the stove walking normally and without noticing, I slipped on the spill and landed on my left shoulder.
I went straight to the ER and the Doctor popped my shoulder back into its place without any painkillers. The Doctor took me off work for the next three months, as I was not going to be able to do the job properly after that. I applied for disability and received payments for three months while the Workers Compensation case was being processed in the courts.
I was awarded a small amount of money to pay for my shoulder. That money ran out very quickly, mainly just paying rent.
The corporation I worked for forced me to resign and agree to never apply for work with them again as result of the lawsuit. M
y lawyer assured me that in the future, potential employers wouldn't be able to discriminate against me as a result of that case. I feel like I was lied to.
I've had a job and been a responsible member of society since I was 16 scooping ice cream at Baskin Robbins, and paying my way through community college, where I attended in 1995. Affirmative Action was in full swing at this time and this was the first time I felt discriminated against by the system. I made about 17k that year barely getting by but in order to get financial aid for school, I had to have made 16.5k or less, so I didn't qualify and eventually dropped out because I simply couldn't pay.
That was 20 years ago! …And I'm still struggling, but I haven't quit. I was forced to swallow my pride and accept government assistance. I'm now living on General Relief and Food Stamps, desperately trying to find a job. Every company out in Los Angeles has a high percentage of latinos (many of which do not even speak English) working as are other races. However, I feel that in Los Angeles there's some serious racism happening towards white people.
People claim that latinos are the only people who would accept lower paying jobs, but this is simply not true. The latinos who took those jobs years ago when the majority of others wouldn't, are in all the hiring positions of power and management now. So guess who they're hiring, all of their friends and family. Every hotel, restaurant, bar, or service oriented position that I interview for, about 90% of the staff is latino or women. I've seen it with my own eyes. The claim that there's no such thing as a poor white person is ludicrous.
WHITE MALE SYNDROME
My parents didn't raise me with a racist bone in my body. I speak perfect English but I can't seem to get a job in my own country! I'm a talented Mixologist and Bartender. However most of the bars in LA only hire women. Now, I know that I happen to work in an industry that caters to women.
I did not realize that there was so much racism and sexism in the service industry when I began….and now I want out. I want to start over but I don't know how or where to begin. There are scholarship funds available for almost every race or creed of people on this planet except for the "White American Scholarship Fund"…that doesn't exist…or the "American-American Born and Raised Here Scholarship Fund"…that does't exist either and if a white person such as myself even brings that point up, we get labeled a racist.
I feel that Affirmative Action is still being used in Los Angeles. Many of the requirements for jobs in LA state that you have to be bilingual and know Spanish, just to get a job in our own country, but these people aren't required to learn English in order to get a job here in the USA?!
I have no one to talk to about this because no one can relate or even has the capacity to even try to understand. I feel lost and thought I'd write you. Any advice you can offer would be sincerely appreciated.
Source:
http://henrymakow.com/2015/06/White-and-Broke-in-Los-Angeles.html
We encourage you to Share our Reports, Analyses, Breaking News and Videos. Simply Click your Favorite Social Media Button and Share.