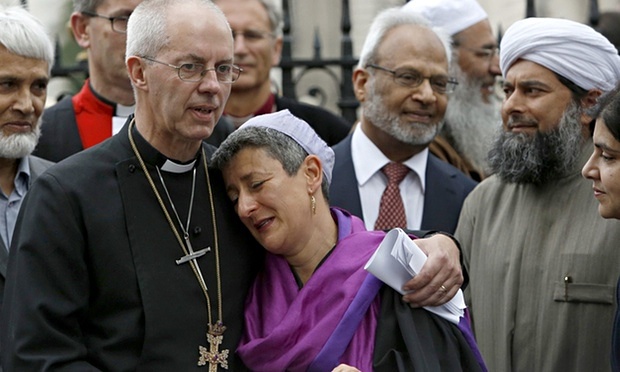 The Archbishop of Canterbury, Justin Welby, with Rabbi Laura Janner-Klausner of Reform Judaism and Imam Shaykh Ibrahim Mogra at a human rights vigil outside Westminster Abbey.
The New Archbishop
of Canterbury,
Justin Welby, has all
the hallmarks of an
Illuminati Jewish imposter.
The 80-million strong Anglican communion is headed by a hidden Jew. Perfect to usher in a one world religion and morally support the World Government/New World Order.
By Henry Makow Ph.D.
I was sickened to hear that Justin Welby "only learned as an adult that his father was Jewish," which makes him half-Jewish.
It reminded me of John Kerry who spent his life parading as an Irish Catholic only to discover as an adult
his father was also a Jew, one
linked to the CIA. The Illuminati are usually half-Jews who intermarry with other generational satanists, usually Freemasons. I find it repugnant that they have placed their agent in the position of head of the Church of England. Christians are not permitted any genuine leadership.
Justin Welby background features all the hallmarks of the Illuminati.
1. Grandfather Bernard Weiler was a German Jewish immigrant and importer of luxury goods who came to England in 1886 and changed his name to Welby.
What kind of people but subversives disguise their identity by routinely changing their names?
2. Welby's father Gavin, a full Jew, was a bootlegger and playboy in the US during the Depression. He dated JFK's sister Patricia. Welby's mother, Jane Portal, a former personal secretary to
Illuminati go-fer Winston Churchill
, was the niece of
R.A.B. Butler
, a member of the Churchill Cabinet.
Welby's parents were divorced in 1959. His mother married banker and company director Charles Williams in 1975. Welby's stepfather was the nephew of career soldier Brigadier Arnold de Lérisson Cazenove and Elizabeth Laura Gurney, of the investment bank
Cazenove
.
3. Like Illuminati agents such as Adolf Hitler and Barack Obama, Welby's rise from obscurity was rapid and unexpected.
Welby "found religion" late in life. He spent 11 years working as an executive in the oil industry, but "retired" in 1989 (age 33) when he felt a calling to be ordained. He was Bishop of Durham for just over a year before becoming Archbishop of Canterbury in November 2012.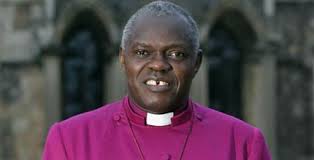 Justin Weiler was not the natural choice for Archbishop of Canterbury and the choice was a disappointment for traditional conservative congregations. There were other more suitable candidates, such as the Archbishop of York,
John Tucker Mugabi Sentamu, left.
The Archbishop of York is second to Canterbury and usually the natural successor. Ordained in 1979 at age 30, Sentamu joined clerical orders after escaping Idi Amin's Uganda.

The Church of England was not ready for a Black Bishop whose views are closer to African continent on issues like same sex marriage. He is not an establishment person. The media had attacked him for several of his comments. Welby's oil industry experience stands out as unusual compared to other candidates.
INFLUENCE
In a BBC interview, Welby admitted to having doubts about the existence of God and disclosed that, on a recent morning jog with his dog, he questioned why the Almighty had failed to intervene to prevent injustice.
"The other day I was praying as I was running and I ended up saying to God: 'Look, this is all very well but isn't it about time you did something – if you're there' – which is probably not what the Archbishop of Canterbury should say."
This is a very primitive understanding of God for a man in his position. God depends on divinely inspired people to enact His will. He cannot intervene to save a bunch of lazy fat-assed profligates who have chosen Lucifer over Him.
The rest of interview contains vague platitudes. Welby is clearly more comfortable preaching the gospel of socialism rather than Love. H
e has raised questions about the "inexplicable" increase in energy prices, which he has said are putting strain on low-income households.
He has criticized government changes to welfare and targeted payday lenders, saying that he wanted to "compete Wonga out of existence", although it was later pointed out that at the time the church was an investor in Wonga.
Finally as
The Times of Israel pointed out
,
"if he doesn't succeed, the father-of-five can always retire to Israel – where, as a descendent of a Jewish father and grandfather, he is entitled to citizenship under the Law of Return. For an Archbishop of Canterbury, this is surely a first."
CONCLUSION
Jews and Christians alike need to understand that
Judaism, defined by Cabala, is a satanic cult masquerading as a religion
. The crucifixion of Christ was the tip. First Jews and Freemasons, and now society as a whole,
have been inducted into this cult
which abjures the Spirit of God and embraces Lucifer. A deliberate long-term satanic strategy is nearing fruition. Justin Welby is an example.
—
Thanks to John for the tip!
——
Related:
Source:
http://henrymakow.com/2015/08/archbishop-of-canterbury-illuminati.html
We encourage you to Share our Reports, Analyses, Breaking News and Videos. Simply Click your Favorite Social Media Button and Share.