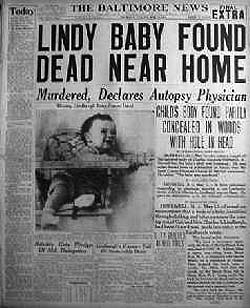 "The Crime of the Century"
The Lindbergh baby kidnapping and murder
as punishment for wanting to keep the USA
Moshe Solomons, who had contacts and the
Jewish underworld
through the 60′s, said Lindbergh
just would not listen to threats or warnings.
by Anonymous
(henrymakow.com)
Charles Lindbergh
w
as an all American hero and pioneer pilot who was the most popular man in America. It was said he would become President of the USA.
Because he wanted no American involvement in the Jews' war on Germany, he came into direct conflict with them, and in New York, they openly wanted him punished.
On March 1st 1932, a terrible deed occurred which the newspapers called "the Crime of the Century. "During the night his 20-month-old baby son, Augustus, was taken from his crib. The police chief, Harry Wolfe, a Jew with underworld connections arrived suspiciously quickly and ordered an immediate search. A broken ramshackle ladder and a ransom note were found.
Over two months later on May 12 1932, the baby's decomposed body was discovered a short distance away in a wooded area. The medical examiner determined that the cause of death was a massive skull fracture. The hands were missing and his left leg was missing from the knee down.
It was said the baby had distinctively marked toes, and that was possibly why the leg was taken.
Positive identification was made by Charles Lindberg and the babies nanny Betty Gow who had made the undershirt the baby was wearing, Charles retired from politics and never ran again.
The Trenton county mortician was warned off and the Jewish coroner Walter Swayze carried out thee examinations.
This information was hidden up until 1977.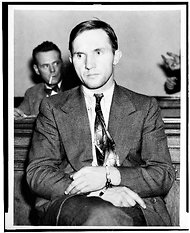 Two years later, a German national carpenter Richard Hauptman, left, was arrested and charged with the baby's murder in a trial which lasted from 2 January until 13 February. The most damning evidence was the fact that Hauptman tried to spend some money which had been marked by police as part of the ransom.
Hauptman said he had been befriended by a Jewish man who asked him to look after a shoe box for him. He never saw the man again so after two years he spend some of it and was arrested.
David Wilentz
, the Jewish Attorney general of New Jersey prosecuted Hauptman. He withheld evidence which should have cleared him. The Jewish-controlled press had a field day; the lynching began from day one.
Hauptman, of limited intelligence, was sentenced for first degree murder and went to the electric chair at the New Jersey State Prison on April 3 1936. He proclaimed his innocence right to the end.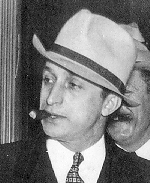 (left. Willentz)
The crime spurred congress to pass the "Lindbergh law" which made transporting kidnapping victim across state lines a federal crime.
According to dissident Jewish broadcaster Moshe Solomons the Lindbergh baby case was punishment for him wanting to keep the USA out of the war. Solomons who had contacts and the Jewish underworld through the 60′s said Lindberg just would not listen to threats or warnings. He claimed the baby was ritually sacrificed and quoted the Old Testament, Genesis 22-2 "God said, take your only son whom you love, to the land of Moriah and offer him up as a burnt offering."
At the end of W W II Lord Rothschild had Winston Churchill make the German nation a burnt offering. Churchill had Germany firebombed in 1000-bomber raids day-and-night. Rothschild was on record as saying " not one stone must remain on top of another."
This was later blamed on Bomber Harris.
The Japanese were also made burnt offerings or holocausted.
Moshe Solomons never published his work and before he could write his book he passed on, but he investigated and trawled through many FOI requests and believed the kidnapping was a Jewish plot from start to finish
to prevent Lindberg from keeping America out of the war.
—
Thanks Brian!
Source:
http://henrymakow.com/2015/09/lindbergh-kidnapping-retribution.html
We encourage you to Share our Reports, Analyses, Breaking News and Videos. Simply Click your Favorite Social Media Button and Share.