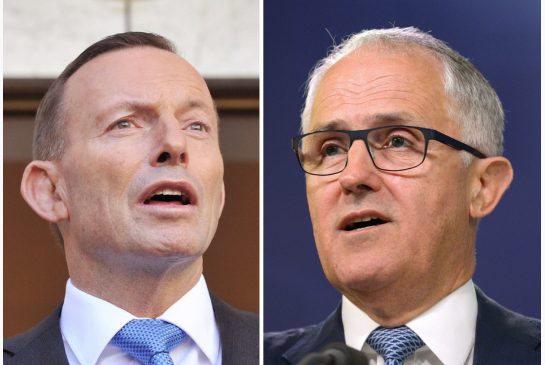 "Our preferred option is Malcolm Turnbull (or Turncoat as we call him) for Prime Minister, but you can't have everything. We're working on it though."
Tony Abbott, left, was too socially conservative for the Satanist Lodge that runs Australia. New PM Malcolm Turnball,a former investment banker, is considered "not Conservative enough." You know what that means.
By A.J. Fozdyke
(henrymakow.com)
For the sake of some sport I truly hope that at least some of you are prepared. Not long to go. Weeks maybe. By Samhain, (Oct. 31) if not before. Low vibration energies are malleable, almost physical and can be directed to cause various manifestations. When paradigms crash there's always a lot of such energy. And a lot of blood. It's self feeding. In the ensuing chaos the filth will kill off one another.
'The beautiful goddess Naamah is becoming stronger, because in the splendour of Her shimmering power is the spirit of the world reflected. The dragon which rests in Her womb is awakening. The Usher of Desecration, Merovingian daughter of the heart of darkness comes in Her flaming robes to open your eyes to what is hidden. And We will taste Her power and beauty.'
After things settle down there'll be security. Lifetime security. Guaranteed. Sheeple love equality and security so everyone will be poor and controlled, because if ignorance is bliss the useless repeaters should all be ecstatic! Poverty enables conformity more than anything else. Think of it as consensual mind rape. Sheeple love security and are more than happy to trade little pieces of their souls; bit by bit.
To ensure a healthy gene pool from which to breed a new humanity, the sick and elderly must be allowed to die. That's already happening in Greece, Italy, Portugal, Spain and elsewhere. In these countries there are lots of Catholics and Orthodox, but they're still committing suicide. When reality meets baloney, reality always wins. It'll happen globally when currencies collapse. No more pharmaceuticals!
As the price of silver has been falling it's just as well you didn't get any. If I were you I'd be reclining in my comfy, intellectual easy-chair in the knowledge that your superannuation and savings are safe and secure. Tomorrow will be just like today only better, because while sheep need a dog to control them, sheeple control themselves.
There are so few human rights that taking away what's left won't hurt. Most individuals are Johnnie Walker types. They die by about the age of twenty-five, but just like Johnnie, they keep walking. Personally, I love watching Sheeple being tortured and slaughtered by the police for whom they pay. I often wonder how free and brave Americans feel just before their police snuff them out. Remember that you all paid for the military, computerised weapons and camps.
We view it as systems. Making little machines work within systems. As Petor impressed upon me: Satan might not be good on a personal level, but He's a wonderful Systems Man!
—-
Google Aloysius Fozdyke Makow for about 10 previous articles by this author.
Source:
http://henrymakow.com/2015/09/New-Aussie-Prime-Minister-Is-Satanist-Choice.html
We encourage you to Share our Reports, Analyses, Breaking News and Videos. Simply Click your Favorite Social Media Button and Share.