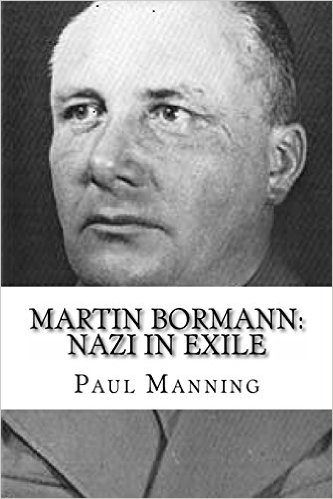 Paul Manning's 1981 book is more evidence that Nazi Germany was funded and controlled at the top by Illuminati Jewish bankers. Hitler and Bormann were Illuminati agents. In this excerpt, Paul Manning, who was an establishment journalist who stumbled on the truth, says that Illuminati Jews play a major role in the Nazi financial empire that is the backbone of post war Germany.
"
So much emphasis is placed on select Jewish participation in Bormann companies that when Adolf Eichmann was seized and taken to Tel Aviv to stand trial, it produced a shock wave in the Jewish and German communities of Buenos Aires.
"
by Paul Manning
(Excerpt by henrymakow.com)
With the war years far behind him,
Martin Bormann goes on and on, quietly making history in worldwide financial circles.
He was eighty on June 17, 1980, and his chief of security, Heinrich Mueller, was seventy-nine the same year.
Bormann today may be likened to the classic chairman of the board of a vast international business complex, of an organization holding greater assets than any private investment house on Wall Street. Bormann, aged though he is, continues to guide the destiny of his financial empire. But he is sufficiently prudent and foresighted to realize that the assets he controls must be placed in younger hands, and today the leadership council of the senior NSDAP (Nazi) group is reflected in a younger generation, comprising professional managers, lawyers, and financiers, who are calling the shots as money and trade are moved among the markets of the Americas and Europe.
Their organization holds the bearer bonds that give him a voice in banks and industries of Germany, and likewise they hold blue chip stocks in U.S. heavy industries and chemical companies. They are represented too on the boards of corporations in France, Belgium, Holland, Sweden, Luxembourg, and Switzerland, as well as in a myriad of other countries, including those in their bastion, Latin America. Their management is one of the best and the companies they operate return a profit to everyone involved, from the West German government in corporate taxes and increased trade, to the share- holders of all companies that participated so long ago in Reichsleiter Bormann's flight capital program.
JEWS PROFIT TOO
Since the founding of Israel, the Federal Republic of Ger
many had paid out 85.3 billion marks, by the end of 1977, to survivors of the Holocaust. East Germany ignores any such liability. From South America, where payment must be made with subtlety, the Bormann organization has made a substantial contribution.
It has drawn many of the brightest Jewish businessmen into a participatory role in the development of many of its corporations, and many of these Jews share their prosperity most generously with Israel. If their proposals are sound, they are even provided with a specially dispensed venture capital fund.
I spoke with one Jewish businessmen in Hartford, Connecticut. He had arrived there quite unknown several years before our conversation, but with Bormann money as his leverage. Today he is more than a millionaire, a quiet leader in the community with a certain share of his profits earmarked as always for his venture capital benefactors. This has taken place in many other instances across America and demonstrates how Bormann's people operate in the contemporary commercial world, in contrast to the fanciful nonsense with which Nazis are described in so much "literature."
So much emphasis is placed on select Jewish participation in Bormann companies that when Adolf Eichmann was seized and taken to Tel Aviv to stand trial, it produced a shock wave in the Jewish and German communities of Buenos Aires. Jewish leaders informed the Israeli authorities in no uncertain terms that this must never happen again because a repetition would permanently rupture relations with the Germans of Latin America, as well as with the Bormann organization, and cut off the flow of Jewish money to Israel.
It never happened again, and the pursuit of Bormann quieted down at the request of these Jewish leaders. He is residing in an Argentinian safe haven, protected by the most efficient German infrastructure in history as well as by all those whose prosperity depends on his well-being. Personal invitation is the only way to reach him.
The Bormann organization has the ultimate in clout and substance, and no one can tamper with it. I have been told: "You cannot push these people; if you do it can be extremely risky." Knowing their heritage, I take this statement at face value. (pp. 225-228)
—————-
Bormann is as protected from seizure as the money and investments he guards, for those he has benefited are grateful. Simon Wiesenthal, the famed hunter of Nazis, found this out when traveling to Buenos Aires in search of Bormann. He was told in no uncertain terms by the Jewish leadership there to cease stirring up trouble, and to leave the country, which he did. On a directive from Bormann, Jewish and gentile bankers and businessmen alike are represented in the management of German-Argentinian firms, as well as in other West German
corporations in Brazil, Chile, Bolivia, Paraguay, Ecuador, and Mexico. (p.284-85)
Source:
http://henrymakow.com/2015/09/Zionists-Participate-in-Bormann-Nazi-Financial-Empire.html
We encourage you to Share our Reports, Analyses, Breaking News and Videos. Simply Click your Favorite Social Media Button and Share.