by Henry Makow Ph.D.
Mollycoddled and deceived by the media, Westerners are complacent. They don't realize that we are on the path to world war. Ukraine and Syria are already proxy wars that could easily escalate into direct Russia-American confrontations.

(Chabad leader, Menahem Schneerson, 1902-1994)
Irene Caesar, a Russian philosopher and specialist in "the struggle of ideologies" doesn't have any illusions about the true Cabalist Jewish character of this war. Enslavement and genocide is in the Talmudic Jewish DNA, she says. "We are the Chosen People. The goyim are animals who must serve us."
World events can be understood in terms of the longterm Talmudic Jewish plan to enslave the human race. Talmudic Jews and their Masonic Gentile allies (Satanists) have taken control of the West and are waging a war against the White race and Christianity which they regard as their main competition. Their goal is white genocide. First cultural genocide, then physical. Whites, who represent only 8% of the world population are an endangered species.
This may seem farfetched but it does make sense of current events. The whole thing boils down to a conflict over a "multipolar" world which Russia and China want, and a "unipolar" world which really amounts to satanic Jewish hegemony masked as American/EU imperialism.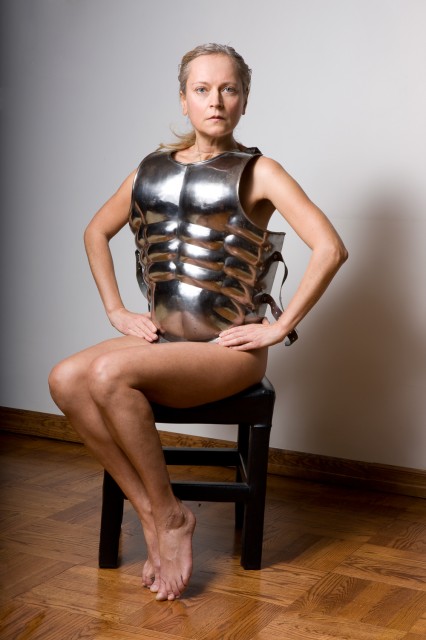 (Caesar, in one of her art installations, as Joan of Arc)
It explains millions of migrants flooding the US and Europe in order to destroy racial homogeneity. It explains the relentless attack on Christian cultural values, especially marriage and family, via a war on gender, the bedrock of our identity. This psychological attack is seen in the
bizarre promotion of homosexuality, pedophilia and transgenderism.
It explains why Netanyahu is provoking the Palestinian people to rise up with knives as a pretext to their genocide.
She says the coup d'etat in Ukraine is intended to re-establish the true Jewish homeland of Khazaria and serve as a bridgehead to invading Russia, which she sees as the protector of a sane multipolar world where no one dominates anyone. Putin follows the "holographic principle where every matrix is unique and sovereign."
She says Russia has always been the motherland, fount and protector of the Aryan race. But Russia does not practice genocide like the Khazarian Jews. Russia has 100 different nations living within her borders.
She says Putin is the "number one target" of Satanist Jews, like Henry Kissinger and Victoria Nuland who studied talmud every day as children. Their greatest fear is that Germans and Russian will unite to resist their subjugation. She believes Putin is sincere. He started as their ally but was betrayed countless times and "no one can forgive betrayal."
Hitler, on the other hand, was a Zionist agent responsible for the real holocaust, the murder of 30 million Russians and 10 million Germans.
I agree with Caesar's analysis although I still have some qualms about Putin. However I withhold judgment on some of her claims. For example, she believes Russia has miraculous "quantum leap" technology that is a panacea for mankind, solving disease and poverty, as well as teleportation! She claims the Masonic Jews are determined to stifle and seize control of this technology.
In conclusion, Westerners are oblivious to the malignant force that has seized control of their societies. We are talking about Cabalist Jews (especially Chabad, Hasidim) Zionism, organized jewry, and non-Jewish Freemasonry. Before it is too late, ordinary Jews, Christians and society in general must face the unsavoury fact that Judaism (which is defined by Cabala/Talmud) is Satanism.
We must heed Irene Caesar's message, to "wake up" or perish.
Source:
http://henrymakow.com/2015/10/eloquent-new-voice-sounds-alarm.html
We encourage you to Share our Reports, Analyses, Breaking News and Videos. Simply Click your Favorite Social Media Button and Share.