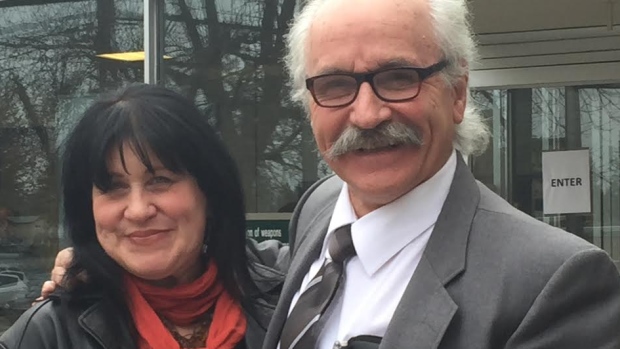 (left, Topham with wife Shasta)
"I've penned my response to such a position this morning and will share the email I sent to Monika who also expressed dismay in the verdict. It may help explain the verdict in context.
So many other sites are now picking up on the story as well.
Crown could ask for jail time but as you'll see in the email to Monika they may have to wait a few years."
Dear Monika,
Bless you! But please don't be sad. In truth it wasn't a sad day at all. It was a day of victory in so many ways which will soon come out once the world realizes how this trial actually unfolded.
We will get the transcript of the trial and place it on the Internet and in that way we will expand that little gallery which you were privy to in Quesnel's supreme courtroom so that the whole world will be able to sit in and listen to what was presented to the jury. We, the truth revealers around the world are the real jury and those sitting in the global gallery.
It was Justice Butler who ruled on the original Charter application back in June of 2015 and stated that it would be best to address that issue after the trial. Well, it's now after the trial and given that I was found guilty on Count 1 that is the basis upon which we can now take this Sec. 319(2) challenge right to the highest court in the land for adjudication.
At the moment the court system uses the Keegstra case to justify infringing upon our right to freedom of expression but as my defence counsel pointed out in our challenge, my case is far from what Keegstra's was. He was actually teaching his students in his classroom the truth and they were expected to answer questions in order to maintain their grades. While I find no fault with this of course given the context in which he was doing that it did set a negative precedent which allowed the SC of Canada to state that there were exceptions to our right to express ourselves.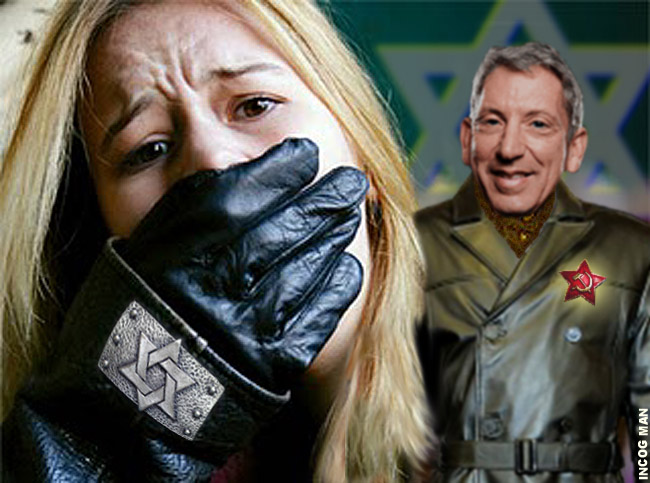 (De facto Communism has been imposed on the West.)
In the case of R v Roy Arthur Topham the situation is far from being like Keegstra case. As well, we've now entered into the record all of the controversial documents which the censors have used for decades to stymie our basic human rights. Those documents will come into play in the Charter challenge and more and more people will be exposed to them which is another positive aspect of it all.
The challenge for me will be, as always, to garner the financial support from supporters around the world to carry the challenge through to the top. This means raising funds to cover the cost of the court transcripts which is the first and fundamental step.
Barclay Johnson (my counsel) and I had discussions about this prior to him catching his flight out to Vancouver yesterday. He said that he was going to make the application to appeal the guilty finding on the grounds that it infringes upon Sec. 2b of the Charter. We have only 30 days from the time of the verdict to do this. Once it's filed the rest of the process will unfold over what could very likely be a number of years. Unfortunately for Crown they will just have to wait to sentence me until the challenge has been heard and a decision is handed down by the Supreme Court of Canada.
I couldn't believe how quick Crown was in trying to get my bail conditions changed so she could restrict my right to publish on my site (and likely anywhere!). I think it even took Justice Butler off guard. Thank goodness he didn't fall for it and ordered her to make an application which will be heard next Thursday.
Hopefully this will clarify why I'm not all shook up at all over the outcome. Besides that, Barclay told me that a jury trial is not the type of trial that would set a legal precedent which would be helpful for others who might be attacked as I was/am. That type of precedent can only be accomplished by taking it to the SC of Canada and having the decision issue forth from the justices who preside there. By the time that occurs the people will be much better appraised of what we are truly facing in terms of our fundamental rights.
Love & Peace and eventual Justice for us all!
Mehr Licht!
Arthur
Source:
http://henrymakow.com/2015/11/arthur-topham-responds.html
We encourage you to Share our Reports, Analyses, Breaking News and Videos. Simply Click your Favorite Social Media Button and Share.