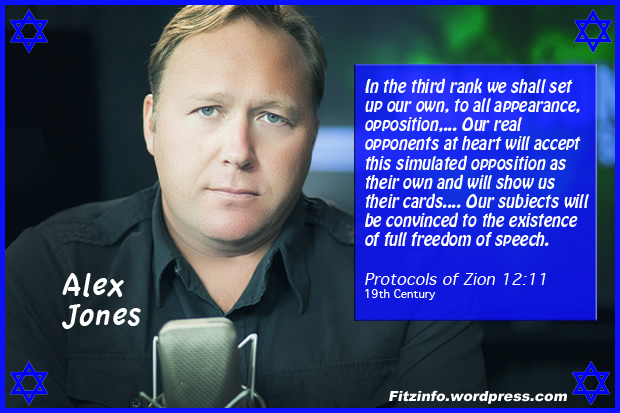 George, a reader, thinks so.
"Jones is a surgeon, and a clever one, albeit not quite clever enough to convince you that he's one of the good guys. He is having a real effect in combating the NWO, and it is terribly disappointing that you cannot recognize how. Everyone with good or light on their side has their position to play, and everyone plays their position differently."
From George:
Hello Henry,
I have just finished reading your article about Alex Jones. I am highly disappointed. There are so many problems with it, it would take me far too long to address it in any way that would be considered complete, so I will have to limit myself to the most important aspect.
For five years, I have listened to Mr. Jones every day with very few exceptions, and day in and day out Jones absolutely savages Jews. There is not a single high powered Jew he has not laid waste to. The list is too long to even begin to compile. In fact, it would be far easier to come up with a very short list of Jews he hasn't attacked, but as a few random examples of those subject to his onslaught I give you Sumner Redstone, Elena Kagan, Rahm Emmanuel, and Janet Yellen. Jones has merely made the decision, for whatever reason, to attack the super elite as human beings without distinguishing them as Jews. So what. That is his prerogative. If others are able to put the last piece of the puzzle together without Jones being so explicit then he has done the job marvellously. Makow, you have to sharpen your skills in distinguishing good from evil. Jones is your ally.
Henry, I've read enough of your writing to know you have a good heart, but on this one you are terribly misguided.
———————
I checked your site today and saw the latest article on Alex Jones, so I am obligated to reply once again. It is virtually impossible for Jones to be so called controlled opposition, because if he was, it would be the most illogical tactic that could possibly be employed by the powers that be. Jones shines light on every conceivable evil perpetrated by the NWO, day in and day out, and there is no play in the book that says this is a viable tactic against an enemy, which in this case is you and I. Therefore, by appeal to the most basic logic, one must infer the NWO is not so stupid as to wantonly allow a constant spotlight to remain on their crimes by employing one Alex Jones. The fact that he ruthlessly excoriates the highest echelons without explicitly identifying many of them as Jewish is thoroughly irrelevant.
As just one example of how easy it is to disprove the
Jones controlled opposition hypothesis of Peter C.
via Makow, consider that in the article you cite a bombshell dropped by former Congresswoman Cynthia McKinney regarding the Israel lobby. Did you know that Ms. McKinney is a frequent guest on Alex Jones Show? Did you know that Cynthia McKinney has been a frequent guest on the Alex Jones Show before and after her bombshell of 2012 that you just cited? She has been on Jones's show no less than four times that I am aware of. Alex loves Ms. McKinney and constantly brags about her incredible strength and fearless character, so how can you remotely explain this? I could cite scores of similar examples if I felt the listening party was actually prepared to give an alternative viewpoint on Alex Jones real consideration.
My point is, sometimes you have to look deeper when faced with obvious contradictory evidence. I have demonstrated that Jones cannot be a militant Zionist by pointing his relationship with Ms. McKinney (verifiable with some diligent archive searching). I have also listened to Jones express great criticism of Israel. As yet another example, he frequently mentions Israel's bombing of the USS Liberty, and he pulls no punches. Henry, why would he pull back the veil on the Liberty affair if he was exclusively pro Israel? Henry, the truth is, you have incorrectly assessed Jones and his motives, mostly through focusing solely on circumstantial evidence that supports your conjecture. Jones has at least ten thousand hours of airtime, which means that any single minded editor could easily find and compile statements that could support just about any theory about Jones.
—-
My point remains, Jones is fearless and ferocious in his attacks on jews, not just on an occasion here and there, but every day. Just for a lark, add to my previous short list Henry Kissinger, Cass Sunstein, Chuck Shumer, Michael Bloomberg, Barbara Boxer, and the granddaddy of them all, Jacob Rothchild as just a few of the jews which Jones has taken on. I have heard Jones obliterate these people to the point that if they were facilitating him in any way, it would have to be merely as an act of suicide. In fact, I have a challenge for you, Henry. Provide me with just two prominent names of the illuminati that you are certain Jones has never talked about because of his connections.
In my opinion, Jones remains alive and out of the clutches of the powers that be for one reason, and one reason only, providence. Does Jones have faults? Sure, plenty of them, but who doesn't.
—-
You know, timing is everything. As fate would have it, at the very moment our topic turned to Alex Jones supposed Islamophobia, Jones reported on today's show that on Monday he interviewed someone very interesting. In fact, Jones interviewed the very last person any Islamophobe would choose to interview. The interview lasted some two hours and included a very cordial dinner after with associates of both sides present. Some of the conversation at dinner was also recorded. All reports are the interview went very well and there was considerable common ground. Who did Jones interview? Louis Farrakhan.
Can you tell me if Jones's attempt to find common ground with the leader of the Nation of Islam creates any doubt that you might have some facts wrong?
Jones will release the interview within a short time. I hope you will make some effort to listen to it in entirety. And I hope you will give consideration to trusting my insight with respect to Jones since I have far more information about where he stands on matters related to the NWO, the unfolding police state, and the criminal activity of the American government, which happens to be bought and paid for by the crime syndicate that is your sole focus.
—-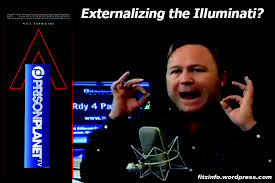 Makow reply-
I don't visit Jones' sites so I depend on readers like you. You start by saying Jones lambasts Zionists and then you say he soft pedals them – which is it? If you're going to "lead the opposition" in Lenin's words, you have to be convincing. Hitler was convincing and I believe he was also false opposition. Michael Collins Piper described how the Illuminati
Jewish bankers have used false opposition in the past
. Like Jones, the John Birch Society does good work
but it is also false opposition
.
I believe Jones is false opposition because 1)
His connection to Bronfman lawyer.
2) He was too young when he got into the biz. He was groomed. 3) He has admitted
he is a Rosicrucian,
which is a Freemason. Admits many family members were Masons. 4. More telling than Jews,
he glosses over the role of Freemasonry which is crucial.
5. His access to mainstream media. 6. His cutting off William Cooper with the spurious excuse that Cooper used profanity. Did the same thing to me when I was on his show. He chewed me out for saying, "Illuminati don't give a shit." The world is going down the toilet, and suddenly this loudmouth Texan is being prissy?
——
Source:
http://henrymakow.com/2016/01/in-defence-of-alex-jones.html
We encourage you to Share our Reports, Analyses, Breaking News and Videos. Simply Click your Favorite Social Media Button and Share.