Munich- My basic feeling is, it´s all over for the German people (for the foreseeable future). Though I personally cannot get comfortable with that notion. I´m still a fan of Lao Tzu. The Tao Teh Ching says: "tackle difficulties while they are still small". People always prefer to deny them until it´s way too late.
The prime back breaker of the German people is that omnipresent guilt complex.
"Germany is alone guilty of the horrors of the world wars and then the (industrial scale) gassings".
Neither is true imho, I´ll spare you that one. That psychology has obliterated the immune system of Germany. One could talk about all kinds of topics "a peace treaty finally, a constitution like in Iceland, negotiations of reorienting towards Russia …" etc, etc., but if the patient does not have a zeal to live any more, none of this finds much of a hearing.
The majority of Germans is caught in some kind of competition of proving that they are "not racists" and how staunchly they condemn "their past". On top of that comes gender mainstreaming, xenoestrogens, feminism and the rest of it.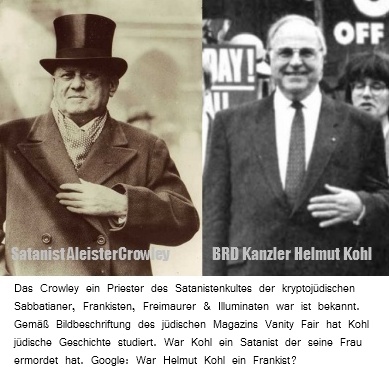 The vast majority of Germans would find it grossly distasteful to touch upon such topics as our "Zionist Occupational Government". Merkel is a Polish Jew. Her immigration madness has nothing to do with Christianity. Before that we had 16 years (!) of Hennoch Kohn (Helmut Kohl, Rothschild friend, sporting Crowley hand sign).
Josef Ackermann
(former CEO Deutsche Bank) had a bureau in the parliament and instructed the MPs where to sign the bailouts. Ackermann was called the most exceptional Jew in the German financial sector by the "German" embassy in Israel.
[Finance Minister Wolfgang] Schauble
(Greece; Orwellian; EU statism) is a leading member of the masonic lodge DER RING. None of this has anything to do with "Germany".
If the "king" is taken out prematurely, the whole tribe will not reach it´s natural potential. Sometimes a politician dares to stick his neck out. Usually it´s over quickly with a character assassination or a bootlicking "apology".
Mollemann
and [Jog]
Haider
and many others got killed without the people even wondering about really why.
Recently I read about [ex-Foreign Minister Guido] Westerwelle dying from his cancer treatment. Obama set a goal for a nuclear weapons free world. Westerwelle wanted to include that goal in the coalition contract with Merkel. When Obama then announced to load more nuclear weapons into Germany, Merkel complained it would be difficult because Westerwelle "forced" that contract on her. Soon after he died from the medical treatment. Many people think what they may, but patterns keep repeating.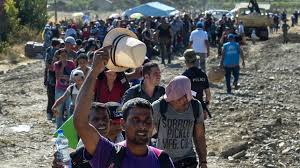 Recently I saw like ant trails of Africans walking through the city. They were checking their I-Phones for directions all the time. Sometimes new immigrant waves come from the main station here. Merkel wants to send the illegals back to Turkey and then bring them back to Germany again as "legal settlers" by airplane (and pay billions for it).
When I go by public transportation and public places I see a population of about 80% migrant and 20% Germans here in Munich. Official numbers are different, because it has been defined now that a German is anyone who is treated like a German by the (government) agencies. That gives you lots of "Germans". Such definitions happen in the world of Franz Kafka or in occupied Germany. It would be hard to tell the difference now.
This video
has surfaced recently.
Purportedly migrants hit on a young woman in an unacceptable way. One somewhat elderly German had the guts to step in to help the young woman out of her plight. He was then pressed to the wall in the subway by Muslims and harassed. What I find unsettling is that mysteriously all the migrants of all different backgrounds suddenly knew that they would unite against the German minority. It is so unbelievable beyond me, that still the majority of Germans can not see the writing on the wall.
Those Germans would say things like "this isn´t true Islam". I couldn´t care less what is "true Islam". The percentage of nutters among the people who identify themselves as Muslim is too high, and the whole thing doesn´t fit with a European background.
I could write on for pages about what I would think to be essential to say about that little question you asked. I just have to make a close.
By now I guess you know, I can´t stop writing when you ask me these questions. It´s an opportunity as well to speak my mind. Few people around me can relate that much to my observations….