Reaction from one of my most trusted correspondents,
a white American,
to yesterday's
article.
by Dan
(henrymakow.com)
This man isn't being persecuted, Henry.
Here's my true story. When I was his age I made extra money evenings by hanging wall paper in people's homes. It's messy work, so I always wore old jeans and t-shirt. One night after finishing up about ten o'clock, I was loading my work tools in the trunk of my car`, when a cop flashed his lights. Two HUGE white cops came over and treated me like a criminal. One shined a flashlight in my face. The other one said "TURN AROUND AND PUT YOUR HANDS ON THE CAR". Instead of doing that, I said, "look man, I'm just finishing a job.."
I don't recall exactly how, but next thing I knew I was face down on the car with one hand holding the back of my neck, and the other hand squeezing my testicles. While they ran my driver's license they asked me specific questions to which I answered, "I can explain if you'll just listen.." The cop said, "DON'T TALK UNLESS I ASK YOU A QUESTION. DO YOU UNDERSTAND ME?"
Do you understand, Mr. Chilcott, when a cop doesn't know who you are and you're a suspect, the only words in your vocabulary need to be "Yes Sir" or "no sir". Talking back, and screaming pregnant girlfriends and resisting arrest only tends to escalates the situation.
Back to my story, the young white couple that I've just worked for came out to see what was going on, the woman said, "It okay officer" to which the cop replied, "STAY OUT OF IT." They stood there mortified, but frozen.
After what seemed like forever – probably five minutes – the other cop said, "It's not the suspect. No priors."
Only then did the cop give me my wallet and say, "We've had several reports of a peeping Tom in this neighborhood looking through women's windows. You match a description we got from a couple that was jogging on this street a few hours ago. White or Hispanic male, dark hair, beard, jeans and white t-shirt."
Then he said. "You're free to go." The other cop said, "we're just doing our job." That was the closest thing to "sorry" I was going to get. It was enough. So I went home. The whole thing probably took about 20 minutes.
My heart was racing, I felt humiliated while it was going on, but I didn't take it personally. I understood that I just happened to match the description of a criminal they were looking for that night.
IT HAPPENS. GET OVER IT. It's not about you.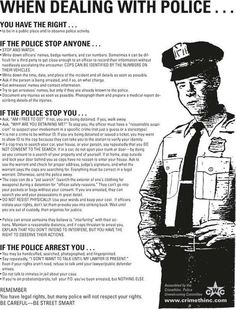 Public schools in the US and Canada should be teaching students how to act when questioned by the police. They should also explain that it's not "because I'm black" or "because I'm queer" or whatever. It's because you may be in the wrong place at the wrong time and look suspicious. If you aren't who they're looking for they'll figure it out.
Download this and read it.
But if Canada is "hell for people of colour", then why does your family stay there? If you think Canada is too "racist" for you, there are many countries in this hemisphere alone where you'll feel right at home. Try Trinidad and Tobago, Cuba, Venezuela, Jamaica, Dominican Republic, Haiti, Colombia, Brazil.
Or if you prefer the benefits and economy of a 'diverse' nation like Canada. there are many cities in the United States where no white cops will persecute you. Try Detroit Michigan. Just over the Canadian border, an 80% black city, with a 63% black police force, black chief of police, black mayor and black city council. What more could you want?
–
Makow reply- Is stealing his money part of "the job?"
Source:
http://henrymakow.com/2016/09/Police-Just-Doing-their-Job-says-Dan.html
We encourage you to Share our Reports, Analyses, Breaking News and Videos. Simply Click your Favorite Social Media Button and Share.