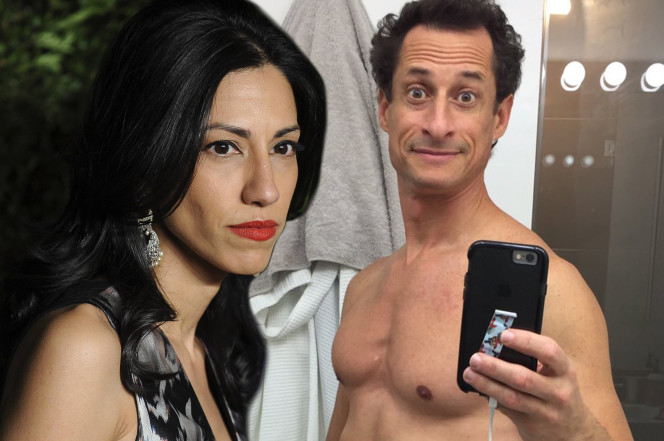 (left,
Anthony Weiner with Ex, Huma Abedin: A Lesson for all Men?)
Anthony Weiner is just the latest in a long list of men
who have destroyed their careers and ruined their lives
because of sex addiction. How do men resist temptation
in a society mad about sex?
by Henry Makow Ph.D.

Anthony Weiner was a rising politician who destroyed his career because he is addicted to "sexting."
He had to resign from Congress in 2011 for posting a picture of his bulging shorts, and lost the New York Mayoralty race in 2013 for sexting young women who were not his wife.
He was leading in the Mayoralty race until the scandal broke.
His wife since 2010 was Huma Abedin, Hillary's chief aide
rumoured to the designate Secretary of State
in the unlikely event of a Clinton presidency. Huma divorced Anthony a month ago after he included
his three-year-old son Jordan in a (not nude) picture. Clearly he was becoming a political liability for Huma's boss.
THE DOCUMENTARY
Anthony Weiner is an universal laugh stock, dismissed by most as a lost cause. So "Weiner", a fly-on-the-fly film account of his doomed 2013 Mayoralty race which surprised me in many ways. I'd didn't expect him to be so impressive as a politician and likeable as a human being. I know his addiction is degrading and pathetic but many politicians have done much worse. Yes, he broke his marriage vows in spirit but no one has accused him of physically cheating.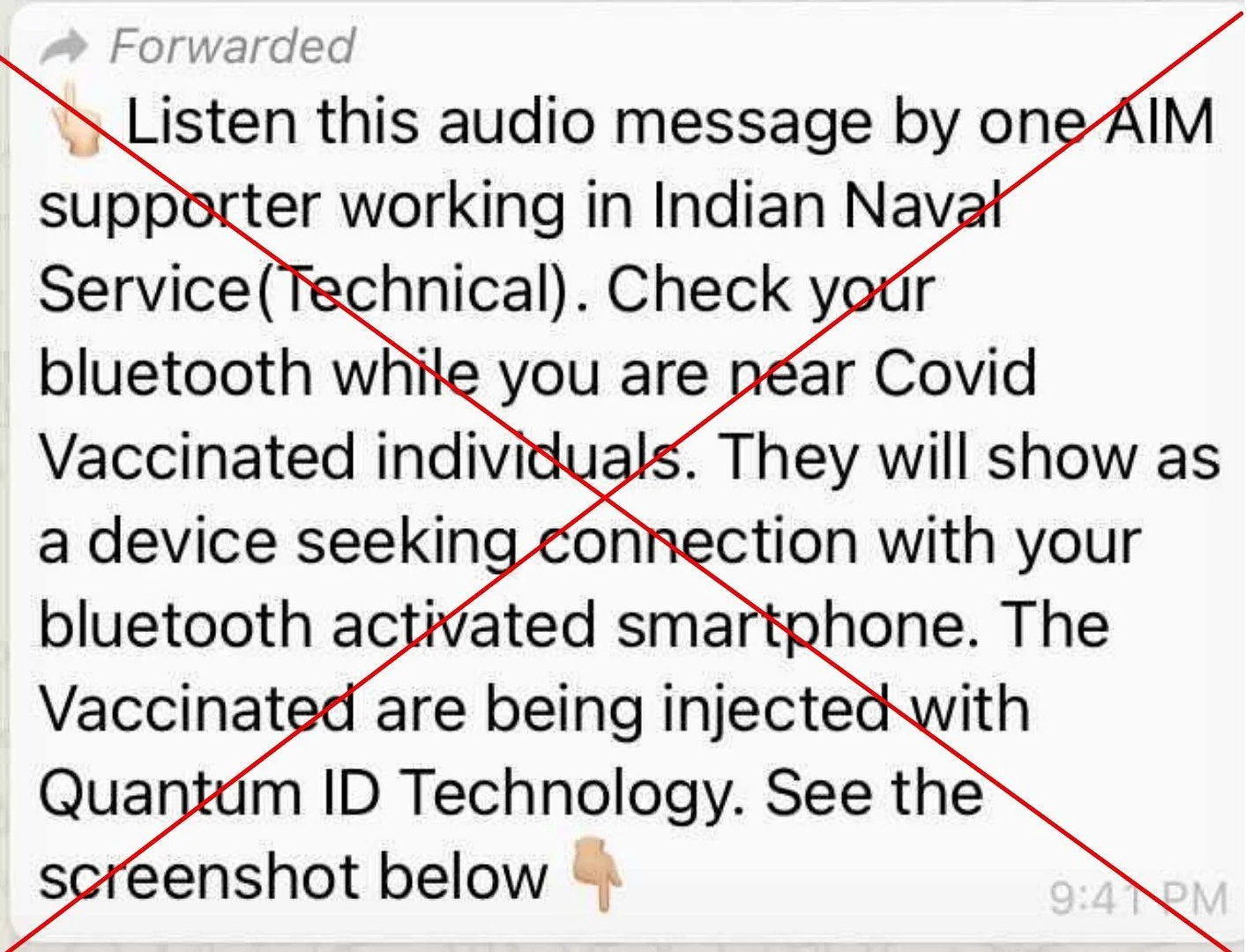 I was even more surprised by Huma Abedin who I dismissed as Hillary's lesbian lover (with Weiner as her "beard.") She came across as very "wifey" deferring to her husband and dutifully phoning Hillary's network to raise money for his campaign. Indeed, she stuck with him through the Mayoralty scandal and after. I was surprised at how they seemed like an average married couple with a toddler.
Weiner destroyed his career because he couldn't overcome his sex addiction.
New York City is a highly sexualized environment.
Apart from money, sex is the unit of exchange. New York City is on the vanguard of a worldwide trend to make sex even more accessible.
Sexual depravity is the hallmark of satanic possession
so it is encouraged. Under the guise of "sex ed" public schools groom children for sex. They are not taught about sex within marriage (i.e. love and commitment.) M
ost single young people are on Tinder or a dating site like that.
The Internet has made hooking up
or cheating fairly easy. We are bombarded with images of beautiful half-naked women, even if we don't watch porn. Young women are taught to measure their value in sex appeal. They are likely to hook up just to prove something to
themselves
. We have all been inducted into a society-wide sex cult.
Although most men have more self-control than Weiner, we all face the same temptations. Weiner had even greater temptation because power is the ultimate aphrodisiac and attractive young women threw themselves at him.
HOW DO MEN STAY FAITHFUL?
Despite the appearance of normality, it's hard to believe that Anthony Weiner would be a sex addict if he were having satisfying sex with his wife.
It's easier to believe that Huma Abadin turned a blind eye to his behavior and this was part of their "arrangement."
Happily married men are in a better position to resist temptation and stay faithful.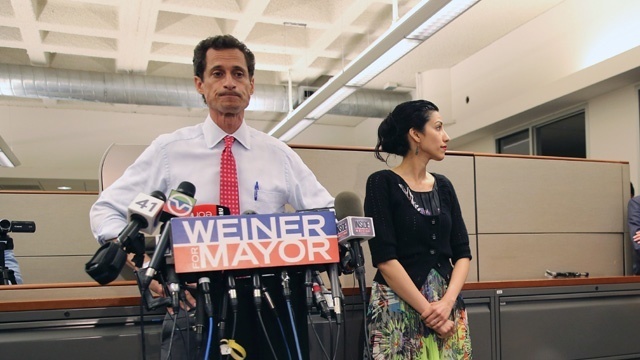 Why would a man stray if he had exactly what he wanted? Bad marriages are the main cause of cheating.
But good sex isn't enough. The promise of good sex is everywhere. There must also be a loving bond that is independent of sex, a commitment to another human being. This bond is based on many things: trust, gratitude and respect, for example. Paradoxically this bond also results from sexual intimacy.
A deeply felt commitment to your spouse is the best way to avoid the many pitfalls of promiscuity and the fate of people like Anthony Weiner.
Note- This article was originally inspired Eliot Spitzer, the Governor of New York State who had to resign because of his sex addiction. In 2008, he was exposed visiting a prostitute. At that time, I wrote:
"Sex is a powerful force. Either we control it or it (and woman) controls us. Like Samson, Spitzer forfeited his power for sex. The bankers used it to control him; they also use it to control us.
Men are fighting a powerful meme created by the banker-owned media. Although sexual attraction is totally based on our natural instinct to propagate, the media divorces sex from procreation and turns it into an entertainment and commodity.

It proclaims anonymous sex is an end in itself, meaningful and liberating, and in Spitzer's case, worth $2000 an hour.
This elevates the nubile female-prostitute to the level of goddess. Who else gets paid that much?
Sex is an appetite like food. If you don't get food, you will think of nothing else. It's the same with sex. The answer? Men have got to marry women who like sex and "forgeta 'bout it."
It's time we deconstructed anonymous sex. Somehow the females have got the upper hand. Much like the diamond cartel ,they have hoodwinked males into thinking that a commodity as commonplace and plentiful as p—y is rare and precious. It's not. In Andy Warhol's words, "Sex is the biggest nothing in the world."
I'll never understand why a man would ever pay a woman for sexual gratification. Why shouldn't she pay him? Sex is just as necessary for her. What fools we men are.
I wouldn't pay ten cents for anonymous sex with anyone. Not this New Jersey nose job. Not anyone. And you couldn't pay me $4000 to service some stranger. (Not that they'd ask.)
The "prostitution ring" charged Spitzer between one and three thousand an hour! It charged $10,000 to $30,000 a night and would consider selling off their chattel for a large lump sum.
Eliot, didn't anyone tell you that all cats are grey in the dark?
The excitement for a man is a woman's response to him. How responsive can a woman be to a stranger? How satisfying can it be when the meter is running? In casual sex, both parties are miming what they think should be happening, rather than admitting that the experience is empty and degrading."
Related-
Source:
http://henrymakow.com/eliot_spitzer_a_lesson_for_all.html
We encourage you to Share our Reports, Analyses, Breaking News and Videos. Simply Click your Favorite Social Media Button and Share.