If Trump is what he says he is, he faces the risk of assassination. Jason Charles offers these words of advice. Protect yourself, Mr. President.
by Jason Charles
(abridged by henrymakow.com)
Yes, Clinton campaign heads have pedophile code words and signs of overt occultism in their email transactions. Wrap your brain around that. The demonic establishment just suffered a massive loss; the globalists have experienced a mega roadblock, and Clinton deserves to see the inside of a jail cell…and hopefully an exorcist.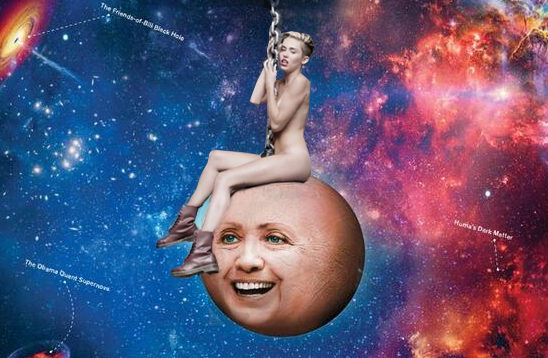 The Clinton camp literally campaigned with professed Satanists Jay-Z and Beyonce, Lady Gaga, Katy Perry, Madonna and the child whore Miley Cyrus (left.) All of whom flaunt their occultism in our faces. They sacrificed, lied, and saluted their dark lord and still lost this critical election.
Just WOW! They all should be very worried right now without question. Together between the Bush administration and the Obama administration there is a lot of skeletons in the Pentagon closet, and now they all are subject to Trump scrutiny. So the question is what does President Trump do now?
PROTECT YOURSELF MR PRESIDENT
Mr. Trump, your enemies are murderers; they are destroyers of nations. The Clinton cartel is steeped in corruption. As bad as Hillary is on a spiritual level, the biggest battle is yet to come. The push for war with Russia doesn't stop with your election, it will be a on-going issue without question as long as the Shadow Government is still influencing the Pentagon top brass. They need to be removed, if for nothing less your safety, but also for the safety of the entire world.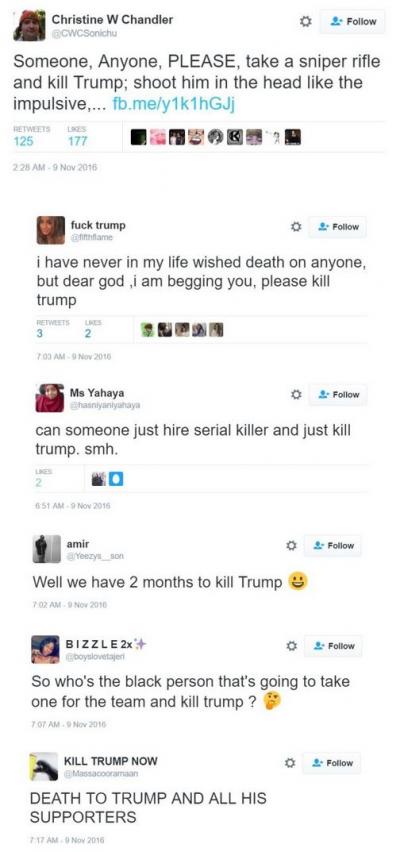 (Left, And it's not just the shadow government)
The shadow government is the true enemy, the true power structure that can find means and opportunity to assassinate Trump. Here is a list of things I feel should be on Trump's mind knowing that the apparatus of government he inherits may have many, many moles and even threats to his well-being. Choose your friends and advisors wisely.
Unite the people, dispel the fears of the minority populations ready to loot, or loot they will. Obama promised them free stuff, and that is how they get it.
Get your trusted cabinet together, meaning people who worked tirelessly for the campaign and put them in major positions of trust. Then charge these people to shake the trees and find out who has carried water in both small and very big ways for the war machine and shadow government and get rid of them in official form. Do whatever it takes to remove them from power.
He has to strip every agency of Neo-con/CFR style advisors and contractors. Without question these people will manufacture the scenarios necessary to continue the war machine.
Cut out the MSM out of official press announcements. They are enemies of the state and need major purging themselves, and can't be trusted.
Make good on your contract for America and force MSM to cover these successes.
Realize Obama has trampled justice especially with the sell of baby parts by Planned Parenthood. Justice must be followed through with, and people need to be prosecuted for their involvement in this ugliness that has marred our society.
War crimes need to be investigated and a new investigation into 9/11 is needed to thoroughly get to the bottom of such crimes seeing it all originated there.
Work to uncover the Soros network of social agitators and funding apparatus that he has used to cause un-imaginable violence in the streets.
Soros should be investigated along side any Clinton investigation. Obama, Clinton, and Soros have all been working hand in glove towards mass civil chaos for a long time.

Get rid of the DHS, seeing they are culprits behind the militarized training of police that has stirred up the violent protests in the inner cities. This is something Obama could have easily done, but social agitation via military police abuse was apart of their agenda all along.
Be skeptical of the advice and friendship of known big government politicians and advisors that will now try to cozy up to you as the President elect. They betrayed you during the election and they will find opportunity to betray you again.
Know that Wall Street and the lords of finance are the dark hand behind every destructive thing in this country.
Promote Biblical morality, and Constitutional government at ever address as a means to right the evils of our society.
Distance yourself from the entangling alliances with Saudi Arabia and Israel and their allies in the US for sure, they are not allies but use American soldiers as pawns for their own agendas.
Like Putin, call liberals what they are, Godless communists that seek the destruction of religious speech and freedoms.
Finally, get your heart right with the Lord and pick advisors that have their hearts right with the Lord also. Pence is a great start.
———————————————
Related: