Hollywood is an occult cesspool where 'success' is determined by the Illuminati. Stardom is only bestowed to those who adhere to their cult conditioning. Often, a 'breakdown' is a sign that their conditioning needs to be reinforced and reprogramming applied.
Recently, Kanye West suffered a "nervous breakdown."
Vigilant Citizen reports
: 'Kanye's hospitalization occurred only days after his infamous rant during a concert in Sacramento where he retroactively supported Trump and lashed out against Mark Zuckerberg, Beyoncé and Jay-Z (while pleading him to not send 'killers at his head').'
This past summer, Mr. West declared that he planned to run for president in 2020. He stated: "When I talk about the idea of being president, I'm not saying I have any political views. I just have a view on humanity, on people, on the truth," he said."
Regarding his stage meltdown,
Reuters reports
that Kanye is 'under spiritual attack' and 'his spirit is vexed and sometimes, darkness creeps in, and Kanye wrestles against it. He talks about that a lot. It's exhausting, and it takes everything he's got. He's just so tired now; he's very low energy and feels like there's a grieving in his spirit. It's very hard to explain, but something has happened recently, where he's not the 'Ye that everyone knows."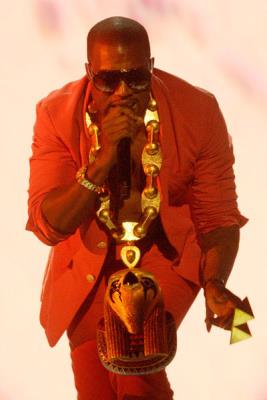 Perhaps fittingly, in his work, Kanye constantly peddles Illuminati symbolism filled with spiritual darkness. Examples include when he performed dangling his huge Horus chain and adorning an oversized pyramid ring. He raps about his own demonic possession. He decries his self-appointed genius at every chance he gets. He's an ideal hypno-patsy and a vehicle to spread corrupting principles.
For the toxic media, his 'reality TV' dramatis personae transmits enough updates for daily distraction. But are we only seeing a tired entertainer or a crumbling caricature? Perhaps it's something more than that.
In the past, Kanye has been a functionary of agitprop, namely his disruptive insertion of 'George Bush Doesn't Care About Black People' during the Hurricane Katrina telethon campaign. His media methodology can be described as sporadic psychological warfare (read: mind control) but what are the motives? Just hype? Chaos?
POP APOTHEOSIS
Here's a few comments by West that confirm his megalomania:
'Kanye speaking at a New York listening party of his album "Yeezus," stated the following: "West was my slave name, Yeezus is my god name!"
One of the songs on the Yeezus Album is called "I am a God." In an interview with "W Magazine", West makes some astonishing claims:
"I made that song, because I'm a god!"
"Now, I just do exactly what I want, whenever I want, how f***. F*** you is my message "
Judiciary Report describes that 'Hollywood occultism is based in the crazed teachings of Satanist, pedophile, murderer and Kabbalah adherent, Aleister Crowley. He referred to Kabbalah as "Qabalah" and deemed "Lucifer" also known as Satan, the head of the cult. He also equated it with "the Illuminati" and "Free Masonry" as forms of Satanism. The music industry occultism has infected a number of stars in Hollywood through the Kabbalah, which drove quite a few of them into mental hospitals.
Examples include Britney Spears, who was committed twice, Paris Hilton, who was placed in a prison psych ward, Lindsay Lohan, who was treated at a UCLA medical psych ward–and many others that all struggle with severe mental problems after joining Kabbalah.'
CONCLUSION
Mr. West has just been released from the UCLA Medical Center after a week of treatment. TMZ reports that he's 'he needs ongoing psychological and medical treatment.' Well, see if this narrative continues.
To be sure, it is possible that Kanye's drama is simply a case of legitimate 'exhaustion', and it's also possible he only has some financial motive. But considering Kanye's flagrant occultism, it seems more likely that his antics are a cracking in his cult programming.
If it's a crack in his cult programming, then he may be undergoing a brainwashing reformation–a process that may have even required him to renew his sacrifice for fame. Either way, Yeezus is an Illuminati production and Kanye is subjugated to its commands. Like he said in his song 'Eyes Closed', 'I sold my soul to the devil, that's a crappy deal'.