Larry Pratt, NRA, & 'Well Armed Woman' join Mark Walters on Armed American Radio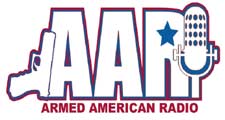 Armed American Radio
Atlanta GA --(Ammoland.com)- AAR host Mark Walters welcomes a hard-hitting lineup this week to discuss the unprecedented attacks against the second amendment freedoms of all Americans.
Larry Pratt of the Gun Owners of America and Stephanie Samford of the NRA bring the voices of two of the nations largest gun rights organizations to the show this weekend.
In addition, Mark talks with Joni Gommo, Cherokee County Ga. Chapter leader of the Well Armed Woman discussing the fastest growing segment of firearms owners, women.
Adding affiliate stations at an unprecedented pace since its syndication less than three years ago, AAR now airs in hundreds of cities across America on over 177 outlets every Sunday evening from 8-11pm ET, 5-8 pm PT and is the fastest growing nationally syndicated, pro-gun radio broadcast in America. Focusing on the right to carry a firearm, Mark Walters and the Armed American Radio Network bring listeners the news, information and truth about the American birthright to carry a firearm that the mainstream media simply ignore!
www.armedamericanradio.com
mark@armedamericanradio.org
Armed American Radio is distributed by the Salem Radio Network. For media kit information, please visit http://www.srnonline.com/talk/talk-walters.shtml
Mark Walters
Host
Armed American Radio Network www.armedamericanradio.com mark@armedamericanradio.org 386-AAR-Mark (386)-227-6275
About:
Armed American Radio is the most free-thinking, politically incorrect radio station in the U.S.A. We discuss liberty, self-defense, weapons, family, friends, and life. Visit: www.Armedamericanradio.org
Source:
We encourage you to Share our Reports, Analyses, Breaking News and Videos. Simply Click your Favorite Social Media Button and Share.