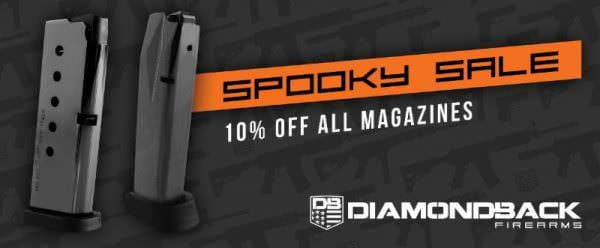 Diamondback Spooky Sale
Diamondback Firearms
USA -(Ammoland.com)- To celebrate Halloween 2016 in a way that shooters can really appreciate, Diamondback Firearms is handing out treats-10 percent off any of Diamondback's high-quality rifle and pistol magazines.
The sale is good from Friday Nov. 28th through Monday Nov. 31st, and you can buy the magazines
online
.
For pistol shooters, Diamondback offers a selection of magazines to fit their popular 9MM's and .380 Autos.
The DB9 magazine is a standard 6-round mag for the DB9 micro-compact 9mm; the DB 380 is the standard mag for Diamondback's DB380 pistol, and holds six rounds of .380 Auto.
You can also opt for the DB 380 magazine with a finger extension.
For Diamondback's full size 9mm, the DB9, there's the DB9FS magazine, packing 15 rounds of 9MM ammunition. You can also buy a value-priced four pack of these top-quality mags.
What AR owner doesn't need another 30 round mag or two-or more!
The DB15 magazine more than fits the bill, a standard AR-15 aluminum magazine. Made by Diamondback and offered at an extremely affordable $11.99 a piece, the DB15 magazine is an ever better deal at our Halloween prices.
Diamondback also offers Magpul AR magazines for both the AR/M4 and AR10 platforms at some of the most competitive prices you'll find anywhere.
Buy now, and stock up before the 2016 Presidential election!
Diamondback Firearms was founded in 2009 with the debut of the micro compact DB380 semi-automatic pistol. Today, the Diamondback line encompasses a wide range of high-quality, All-American made firearms including (but not limited to) DB15 AR rifles, DB15 AR style pistols, and DB FS Nine series of double-action, striker-fired 9MM pistols.