When you're relying on only yourself, you need to ensure you'll have the supplies needed to survive. In a disaster situation, you just can't go to a local store and pick up what you need.
In my home, I have a very large dry basement that I've since converted into a fully stocked food and water storage area. I designed and built a large number of shelving units for all my food along with a large water storage system for holding over 250 gallons of water. With all my systems and preps in place, I'm able to easily keep a good track of my food and water, making any adjustments on the fly as I deem necessary.
When deciding on what to store long term, you first need to know what items can be stored for long periods of time, exactly how long they can be stored for, and how you plan on using or rotating out food before it expires. I would also recommend learning to can and preserve your own food. You will also want to learn how to properly cure meat.
Down below is a bunch of basic food items that are ideal for long term storage, along with approximately how long they'll last for once stored.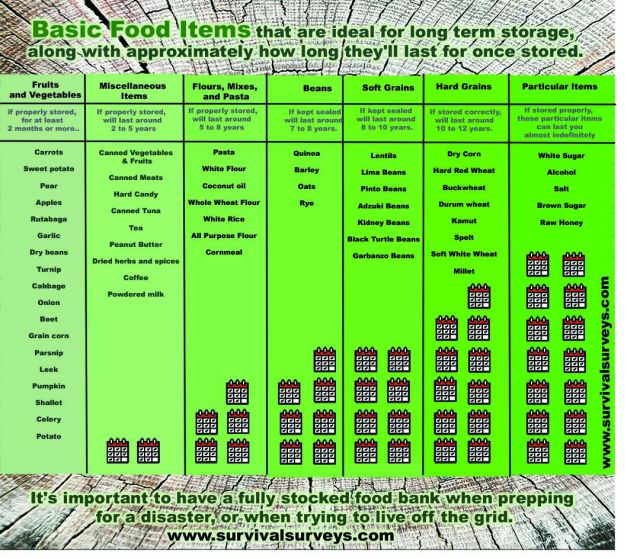 As can be seen from above there are a lot of different foods you can begin storing now for future use. It's important to have a fully stocked food bank when prepping for a disaster, or when trying to live off the grid. Not only will these items allow you to still enjoy many of the foods you love for years to come, but you never know when you'll have a bad winter or an issue with your animals producing food. It's good to have reserves in case something doesn't go according to plan.
Remember to have all your storage systems in place before prepping in earnest. This will save you a lot of time and energy. If your systems are not in place it will be harder to track what you have, what you need, and when things are set to expire.
Rules for a better storage!
Label everything! I label all that goes into my storage with the name of the item, the amount, the date it entered storage and the date it's set to expire.
Inventory Software! I then also enter these things into the ledger I keep and it allows me to have all the information I need on hand and easily accessible.
Rotate the Food! I also always rotate my food putting the items with the longest expiration dates in the back and moving up the soon to expire stuff so I know to use it before it goes bad.
All the best!
Frank Wright
We encourage you to Share our Reports, Analyses, Breaking News and Videos. Simply Click your Favorite Social Media Button and Share.