By David Tong,
In this article, David Tong reviews a historic revolver, the Smith & Wesson Triple Lock or as known by its long name the .44 Hand-Ejector First Model "New Century" Revolver.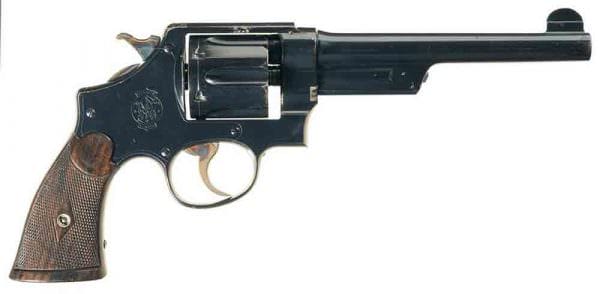 Smith & Wesson First Model .44 Hand Ejector "Triple Lock" Double Action Revolver, courtesy of Rock Island Auction
AmmoLand Gun News
USA – -(Ammoland.com)- This particular Smith & Wesson revolver certainly qualifies as one of the most collectible and interesting hand guns ever built.
Smith & Wesson Triple Lock Revolver
Primarily known as the "Triple-Lock," it was the first "N-frame" revolver still built today. The S&W New Century Model debuted in 1908, and was built until 1915, with 15,376 produced. The revolver was also the first time a revolver's ejector rod had a protective shroud installed to prevent impact damage to it if the revolver was dropped.
Historically, most all S&W revolvers lock the cylinder into axial alignment by the use of the center pin that fits into a recess into the recoil shield (standing breech) on the frame. When the cylinder latch piece is pushed forward, it depresses the center cylinder pin that is spring loaded within the ejector rod and pushes it forward. The forward end of this center pin then depresses another spring loaded / beveled detent at the forward end of the shroud to allow the cylinder to be pushed outward from the frame for ejecting empties and reloading.
Smith & Wesson Triple Lock IMG : www.classicfirearms.be
Due to the large calibers that the New Century was chambered in, including .44 S&W Special, .455 Webley (British Service) among others, the S&W engineers determined that a third "locking point" was needed to ensure that the axial alignment was perfect,,,
,,and so was born the triple lock.
It was a hardened steel insert that was inset into the frame's yoke area on its forward right side, and left in the white. Another hardened spring-loaded plunger was installed into the forward area of the yoke itself, which of course is the object that carries the cylinder. This plunger supposedly added a measure of strength and stability to the rather over-built N-frame design.
classicfirearms.be, Barry Bromley in Belgium
"Classic Firearms Museum." 04-13.
Considering the low-pressures of the cartridges the Smith & Wesson Triple Lock was chambered for, as well as the original cylinders not receiving any kind of special heat treatment, both the rod shroud and the third locking plunger were eliminated on the Second Model in 1917. It is stated that the hardened insert on the frame was a very exacting piece to machine and install, which means this had to be a major cost saving on an already expensive to build handgun.
There were two major Smith & Wesson models of the Triple Lock, one with fixed sights, and a "Target Model" that had tiny friction screws allowing for both elevation and windage adjustment that operate otherwise exactly the same as the current (since ca. 1950) click adjustable sights of today.
Shooting the Smith & Wesson Triple Lock
The Smith & Wesson New Century revolver was available in many barrel lengths from 3.5" to 8.5", and today mostly we see the 5" – 7.5" models as "generally available for sale." I once owned a factory-nickel plated 6.5" Target Model, and in deference to its age
When shooting standard pressure Remington 246gr lead round-nosed ammunition, clocking maybe 700fps, recoil in such a relatively heavy revolver was quite mild. Not much more than a standard .38 S&W Special in a K-frame. Whoever owned it prior to me had zeroed it properly, and it required no sight adjustment to satisfyingly place all its shots well-centered at fifty feet.
Smith & Wesson First Model .44 Hand Ejector "Triple Lock" Double Action Revolver, courtesy of Rock Island Auction
It is said that most of these fine revolvers are no longer working guns, but now heirlooms. Prices for one range anywhere from about a grand to whatever the market can bear, depending on rarity and condition.
This post Smith & Wesson Triple Lock aka 44 Hand Ejector 1st Model 'New Century' Model History appeared first on AmmoLand.com Shooting Sports News .
Source:
http://www.ammoland.com/2017/03/smith-wesson-triple-lock-44-hand-ejector-first-model-new-century-revolver/
We encourage you to Share our Reports, Analyses, Breaking News and Videos. Simply Click your Favorite Social Media Button and Share.