An Exclusive You Have To See: The Last Frontier of Free Press Is Here! No More Censorship, Unlike YouTube and Others!
New Year's Eve in Times Square in New York always has a big crowd, and ever since 9/11 locations like that have been an obvious target for terrorism. Fortunately there is a heightened sense of awareness for such things, with many extra people devoted to counterterrorism tonight. But we should always be thinking of ways to keep ourselves out of potentially dangerous situations, because we cannot rely on anyone to save us if we happen to be in a targeted location.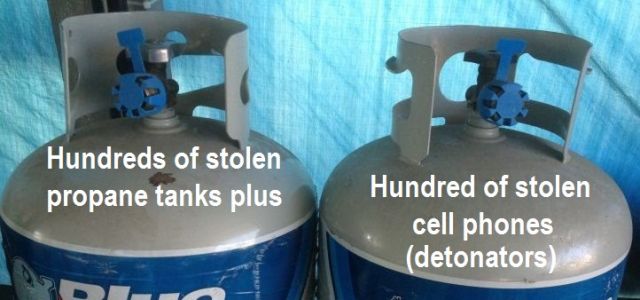 Unfortunately, in recent weeks there are reports of three specific items being stolen in large quantities all over the country. Hundreds of propane tanks, most of them far larger than the small ones that work so well under our BBQ grills, have been stolen in ominous heists from Missouri, near Philadelphia, and some less publicized locations. Obviously, propane can explode.
Hundreds of cell phones have also been stolen – and other very suspicious cash purchases of bulk numbers of prepaid cell phones have been made in several states. Cell phones are often used as detonators in places like Iraq and could be used the same way in America.
The third piece of the puzzle has also been obtained in large numbers, but I hesitate to explain why this piece of a popular video game system would also contribute to a terrorist's completed production. I don't want to give anyone extra bad ideas on how to blow things up.
Let's just say that many components for bomb-making have been in the news because of major purchases and thefts in recent weeks, that America has been experiencing terrorist events for a while already, and tonight provides an opportunity for terrorists hoping to target huge crowds of distracted people. So while you could say this is just rumor, or fear-mongering, I am told it is a very credible threat. I have no particular inside information on where or when such things may be used – but as I said at the beginning, Times Square in New York on New Years' Eve always presents itself as a potential target – and so do hundreds of other gatherings.
If you are going to be near a potentially jam packed area that sick individuals might consider a juicy target, at least be aware of your surroundings and alert authorities quickly if you find something suspicious. Because there are many rumors of what could happen tonight, and unfortunately they are grounded in reality.
An Exclusive You Have To See: The Last Frontier of Free Press Is Here! No More Censorship, Unlike YouTube and Others!
— contributed by author David Montaigne
The Two Witnesses of Revelation
We encourage you to Share our Reports, Analyses, Breaking News and Videos. Simply Click your Favorite Social Media Button and Share.